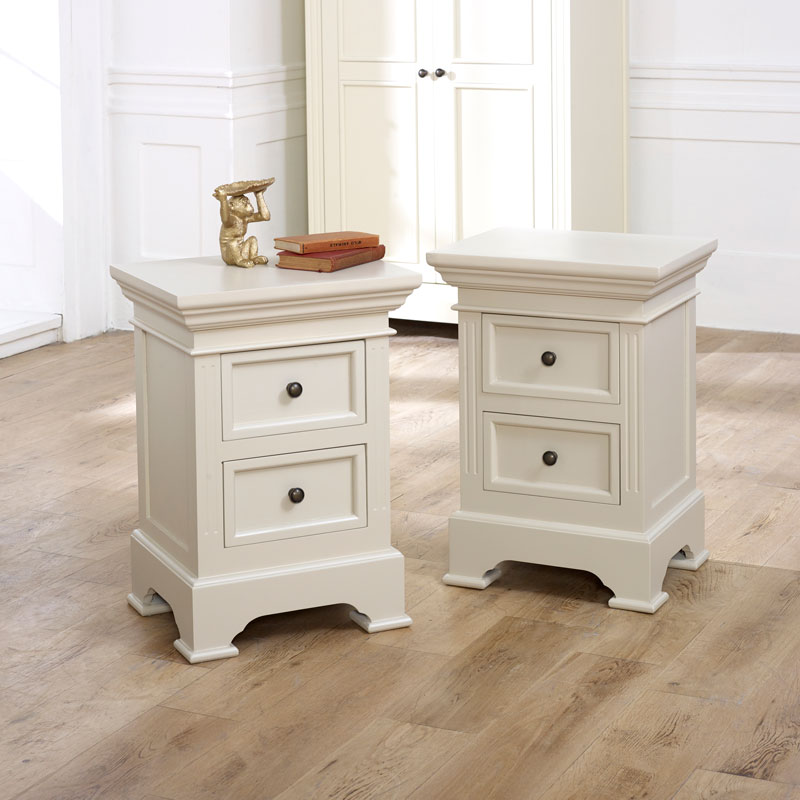 This pair of bedside tables comes from our popular Daventry-Taupe Grey Range. Offering a stylish and practical storage solution for your bedroom. Painted in a neautral taupe-grey colour that incorporates a neutral colour scheme. Pair of bedside cabinets with drawers, in a taaupe/mushroom grey painted finish, from a large range of bedroom, living room, and hall furniture Pairing practicality and pure elegance, the bedside table is a hand painted and hand finished. Give your bedroom an authentic vintage feel with this stunning bedside table
Pair of 2 Drawer Grey Bedside Chest Cabinets - Daventry Taupe-Grey Range
Product code: MM24821
Multi-buy discount
Quantity
Price:
2-4 Items
£

265.00

5-7 Items
£

256.63

8+ Items
£

251.06
Additional information
Measurements:
40cm x 56cm x 33cm (width x height x depth)
15.7inch x 22.0inch x 13.0inch (width x height x depth)
Assembly: Fully assembled
Weight: 19.00KG
Delivery
Estimated Delivery: 1-3 working days
Delivery Available
Standard delivery - Delivery by courier between 9am and 5pm within 3 days of order. *exclusions apply

Standard Delivery

£0.00




FREE on orders over £50
Exclusions - Please note these delivery timescales are for UK mainland postcodes only, if you wish to have your order delivered to a non UK postcode, additional delivery time and charges may apply. You will be advised of the delivery charge before payment.
Read More on our postage & delivery page*exclusions apply
Description
This pair of bedside tables comes from our popular Daventry-Taupe Grey Range. Offering a stylish and practical storage solution for your bedroom. Painted in a neautral taupe-grey colour that incorporates a neutral colour scheme.
Pair of bedside cabinets with drawers, in a taaupe/mushroom grey painted finish, from a large range of bedroom, living room, and hall furniture
Pairing practicality and pure elegance, the bedside table is a hand painted and hand finished. Give your bedroom an authentic vintage feel with this stunning bedside table
Constructed from wood and hand painted in a taupe-grey finish. The bedsides come fully assembled and ready for use.
We have matching furniture available in this range and will allow you to furnish your home thorughout.
From the Daventry range, this is a Two Drawer Bedside Table, which is made from wood, and hand painted and hand finished in a Taupe grey , giving the vintage look.  Its classic lines include a high top plinth and a shaped lower one.  The drawers have large dark knobs.  There are other items in this range, and multiple purchases may allow us to offer a discount.  Its dimensions are 40 cm x 56 cm x 33 cm (width x height x depth).
Additional information
Product Range: Daventry Taupe-Grey
Colour: Taupe-Grey
Finish: Hand Painted
Material(s): Wood
Material type: Hard Wood
40cm x 56cm x 33cm (width x height x depth)
15.7inch x 22.0inch x 13.0inch (width x height x depth)
Weight: 19.00KG
Fully assembled