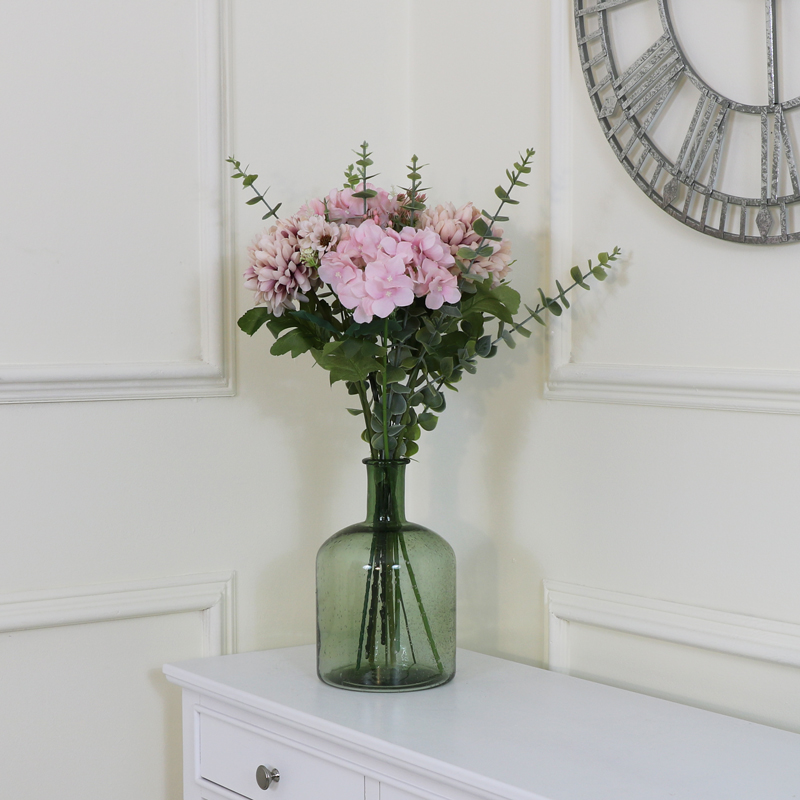 This Faux Spring Bouquet is the perfect pastel combination. Having a mix of pastel pinks which are offset with vintage green floral accent pieces nestled between providing contrast and texture, lovingly wrapped in brown paper. This beautiful Pom & Daisy mix is sure to add a fresh pop of colour to any room and brighten up your decor all year round. A stunning artificial flower choice ideal as a mothers day gift, to be used as wedding decor or table decor with its realistic looking flowers. Perfect for lovers of vintage and country cottage home decor this bouquet would be the ideal addition to your table setting, windowsill, bathroom or bedside table
Faux Spring Bouquet
Product code: MM33151
In stock
Additional information
Measurements:
40cm x 59cm x 40cm (width x height x depth)
15.7inch x 23.2inch x 15.7inch (width x height x depth)
Weight: 1.00KG
Delivery
Estimated Delivery: 1-3 working days
Delivery Available
Click & Collect - Collection available from our store - DN11 8BZ
Proof of card registered address and ID may be required

Click & Collect from Doncaster store

£0.00

Standard delivery - Delivery by courier between 9am and 5pm within 3 days of order. *exclusions apply

Standard Delivery - Wed 25th May - Fri 27th May

£0.00




FREE on orders over £50

Express Delivery - Wed 25th May

£2.95

Weekday Of Choice - For delivery on a week day of your choice. Orders to be delivered the following working day, please order by 2pm. Your delivery will be between 9am and 5pm on the day of your choosing. Sorry, specific time slots are not available. *exclusions apply

Weekday of choice -

£2.95

Weekend Delivery, For delivery on a Saturday or Sunday of your choice If ordering on a Friday before the weekend you want to receive your order please order by 2pm. Your delivery will be between 9am and 5pm on the day of your choosing. Sorry, specific time slots are not available. *exclusions apply

Weekend -

£11.95
Exclusions - Please note these delivery timescales are for UK mainland postcodes only, if you wish to have your order delivered to a non UK postcode, additional delivery time and charges may apply. You will be advised of the delivery charge before payment.
Read More on our postage & delivery page*exclusions apply
Available in 6 other styles
Description
This Faux Spring Bouquet is the perfect pastel combination. Having a mix of pastel pinks which are offset with vintage green floral accent pieces nestled between providing contrast and texture, lovingly wrapped in brown paper.
This beautiful Pom & Daisy mix is sure to add a fresh pop of colour to any room and brighten up your decor all year round. A stunning artificial flower choice ideal as a mothers day gift, to be used as wedding decor or table decor with its realistic looking flowers.
Perfect for lovers of vintage and country cottage home decor this bouquet would be the ideal addition to your table setting, windowsill, bathroom or bedside table
Part of a large collection of Home Decor & Accessories available in a wide array of styles, colours and designs.
Want to see more items like this? Browse our Home Decor & Accessories collection for more ideas
Additional information
Colour: Pink, Cream, White, Green, Brown
Material(s): Plastic, Paper
40cm x 59cm x 40cm (width x height x depth)
15.7inch x 23.2inch x 15.7inch (width x height x depth)
Weight: 1.00KG