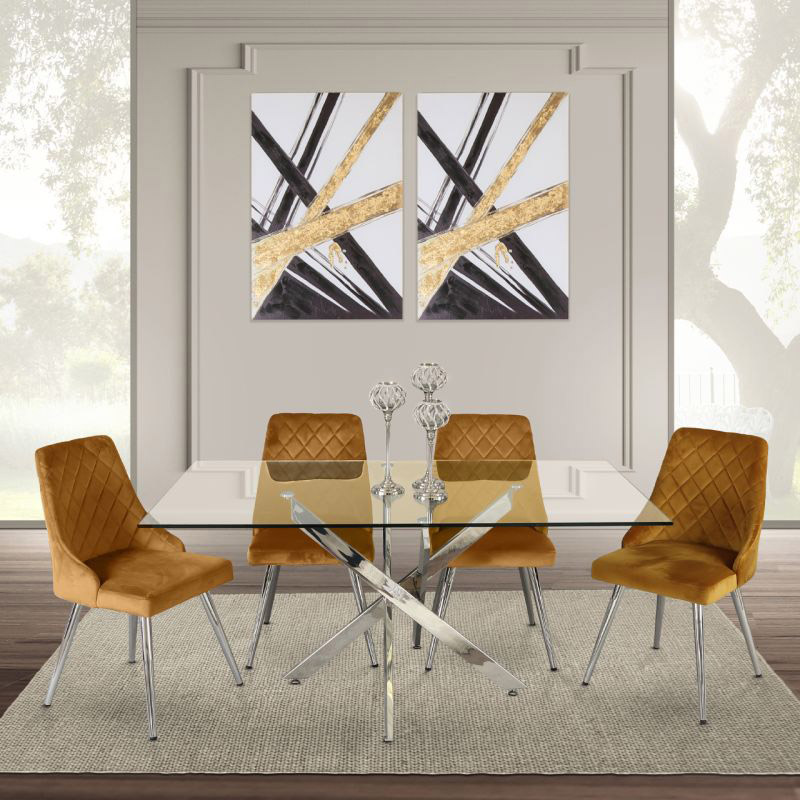 This Glass & Chrome Rectangle Dining Table Set is a stunning furniture piece for the modern luxe styled home decor. Made with a rectangular tempered glass table top with chrome crossed leg base and completed with 4 mustard yellow velvet upholstered dining chairs. This stylish dining table set will add a glam feature in any living room or kitchen, adding a touch of luxury and elegance. The set comprises of the dining table with 4 chairs in a mustard yellow quilted velvet upholstery for comfort. The perfect choice of dining furniture for anyone that loves modern styling
Glass & Chrome Rectangle Dining Table Set
Product code: MM33222
Additional information
Measurements:
160cm x 75cm x 90cm (width x height x depth)
63.0inch x 29.5inch x 35.4inch (width x height x depth)
Assembly: Assembly required
Delivery
Delivery Available
Standard delivery - In most cases, this will be delivered by our own delivery drivers, we will let you know your delivery date within 2 -12 working days of order and provide a 3 hour time-slot 36 hours in advance of delivery. If you live in an area we do not visit, we have to deliver your order via a Third party pallet courier. Please note the pallet delivery will be to your property kerb. Our Pallet delivery company may not be able to provide a time slot in some cases. *exclusions apply

Standard Delivery

£0.00




FREE on orders over £50
Exclusions - Please note these delivery timescales are for UK mainland postcodes only, if you wish to have your order delivered to a non UK postcode, additional delivery time and charges may apply. You will be advised of the delivery charge before payment.
Read More on our postage & delivery page*exclusions apply
Description
This Glass & Chrome Rectangle Dining Table Set is a stunning furniture piece for the modern luxe styled home decor. Made with a rectangular tempered glass table top with chrome crossed leg base and completed with 4 mustard yellow velvet upholstered dining chairs.
This stylish dining table set will add a glam feature in any living room or kitchen, adding a touch of luxury and elegance. The set comprises of the dining table with 4 chairs in a mustard yellow quilted velvet upholstery for comfort.
The perfect choice of dining furniture for anyone that loves modern styling
Part of a wide variety of Furniture available in a selection of styles, sizes and finishes.
Want to see similar items? Browse our full Furniture category for more options.
Additional information
Colour: Mustard Yellow / Silver
Material(s): Metal / Glass / Velvet
160cm x 75cm x 90cm (width x height x depth)
63.0inch x 29.5inch x 35.4inch (width x height x depth)
Assembly required