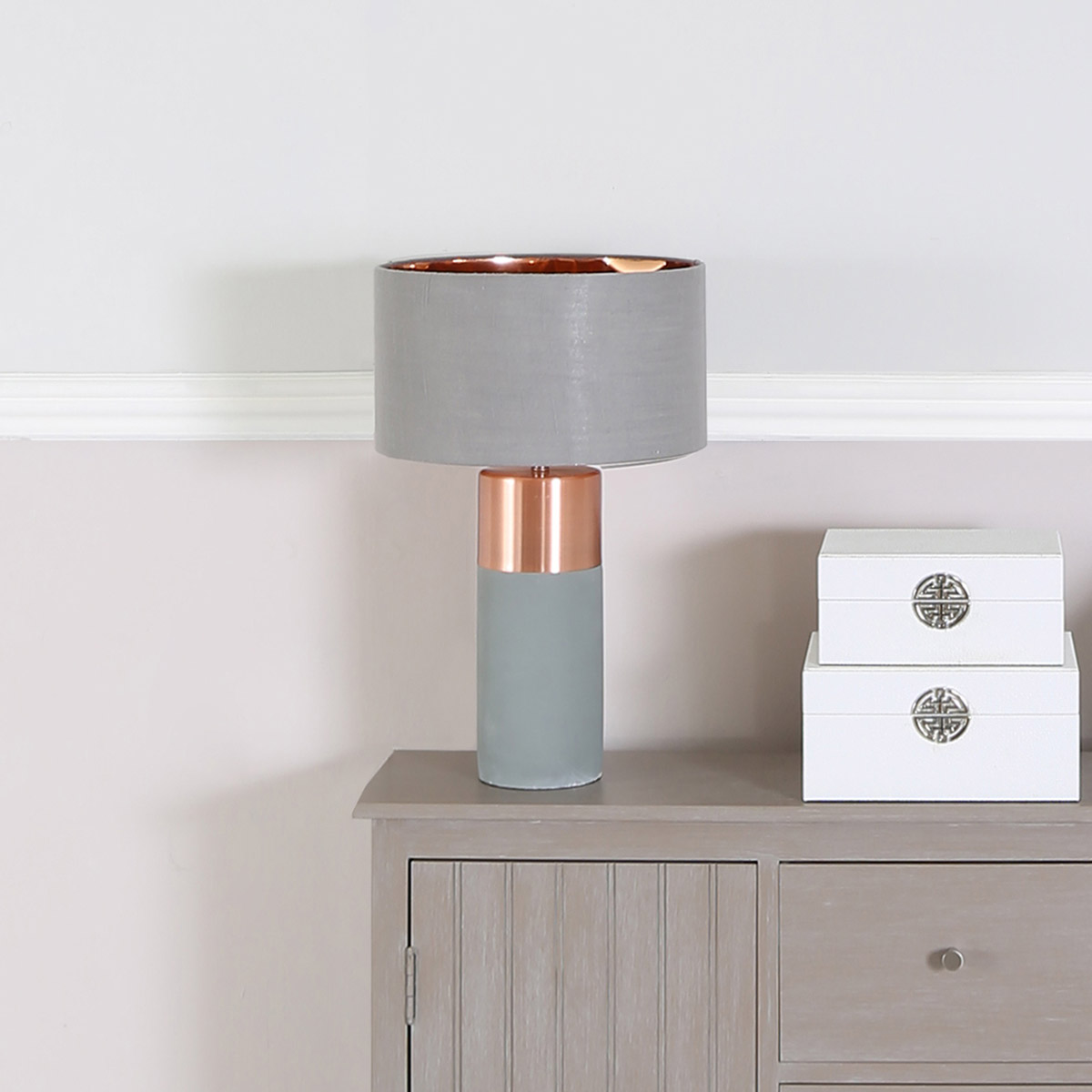 This Grey And Copper Luxe Table Lamp would be perfect for lovers of all things copper and grey décor. Made of ceramic and fabric with a grey column base topped with copper and a matching round grey shade which has a copper lining. A stylish lamp that combines vintage, retro and modern styles. The combination of Copper and Grey gives a retro feel, ideal for placing in the living room, bedroom or hallway. A modern stylish design which will make a great look for any home
Grey And Copper Luxe Table Lamp
Product code: MM33268
Additional information
Measurements:
32cm x 50.50cm x 32cm (width x height x depth)
12.6inch x 19.9inch x 12.6inch (width x height x depth)
Measurements (other): Cable Length: 160cm Bulb type: E27
Delivery
Delivery Available
Standard delivery - Delivered with royal mail between 9am and 5pm. *exclusions apply

Standard Delivery

£4.95




FREE on orders over £50
Exclusions - Please note these delivery timescales are for UK mainland postcodes only, if you wish to have your order delivered to a non UK postcode, additional delivery time and charges may apply. You will be advised of the delivery charge before payment.
Read More on our postage & delivery page*exclusions apply
Description
This Grey And Copper Luxe Table Lamp would be perfect for lovers of all things copper and grey décor. Made of ceramic and fabric with a grey column base topped with copper and a matching round grey shade which has a copper lining.
A stylish lamp that combines vintage, retro and modern styles. The combination of Copper and Grey gives a retro feel, ideal for placing in the living room, bedroom or hallway.
A modern stylish design which will make a great look for any home
Part of a large collection of Lighting available in a wide array of styles, colours and designs.
Want to see more items like this? Browse our Lighting collection for more ideas.
Additional information
Colour: Grey, Copper
Material(s): Ceramic, Fabric
32cm x 50.50cm x 32cm (width x height x depth)
12.6inch x 19.9inch x 12.6inch (width x height x depth)
Measurements (other): Cable Length: 160cm Bulb type: E27