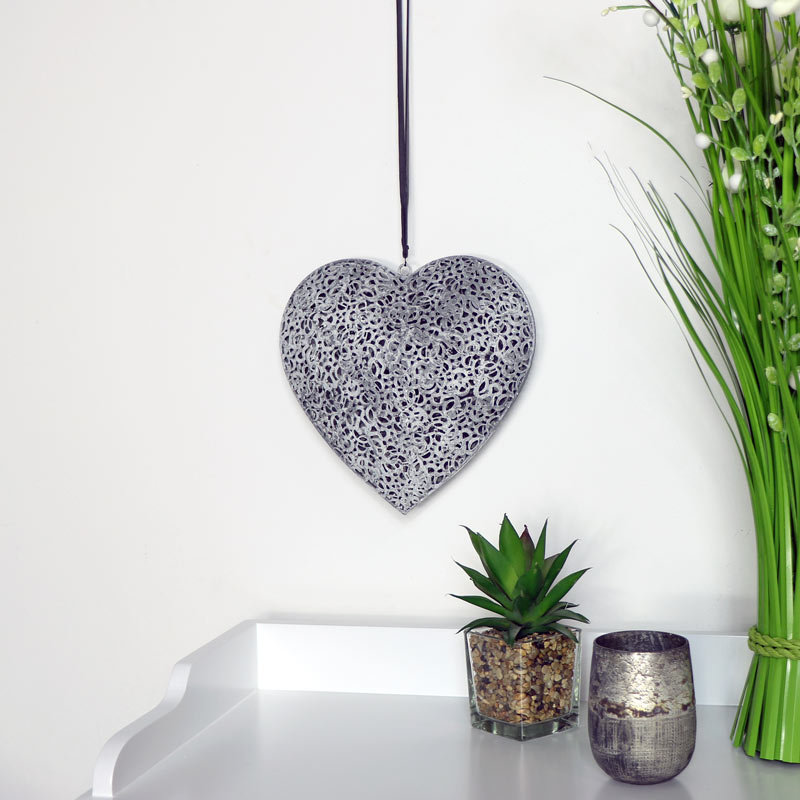 This Grey Hanging Heart is perfect for the shabby chic inspired home decor. offering a beautifully vintage, French country look, made from metal in filigree style. A great gift idea for anyone that loves the shabby chic style and love hearts. The heart hangs from grey string and
Grey Hanging Heart
Product code: MM30379
In stock
Additional information
Measurements:
23cm x 23cm x 7cm (width x height x depth)
9.1inch x 9.1inch x 2.8inch (width x height x depth)
Weight: 0.30KG
Delivery
Estimated Delivery: 1-3 working days
Delivery Available
Click & Collect - Collection available from our store - DN11 8BZ
Proof of card registered address and ID may be required

Click & Collect from store

£0.00

Standard delivery - Delivered with royal mail between 9am and 5pm. *exclusions apply

Standard Delivery - Sat 25th Sep - Tue 28th Sep

£4.95




FREE on orders over £50

Weekday Of Choice - For delivery on a week day of your choice. Orders to be delivered the following working day, please order by 2pm. Your delivery will be between 9am and 5pm on the day of your choosing. Sorry, specific time slots are not available. *exclusions apply

Weekday of choice -

£7.95

Same day dispatch – Please order by 2pm to receive same day dispatch, this will ensure your order leaves our warehouse for delivery the next working day. This will be delivered with royal mail, between 9am and 5pm. *exclusions apply

Same day despatch - Sat 25th Sep

£7.95

Weekend Delivery, For delivery on a Saturday or Sunday of your choice If ordering on a Friday before the weekend you want to receive your order please order by 2pm. Your delivery will be between 9am and 5pm on the day of your choosing. Sorry, specific time slots are not available. *exclusions apply

Weekend -

£16.95
Exclusions - Please note these delivery timescales are for UK mainland postcodes only, if you wish to have your order delivered to a non UK postcode, additional delivery time and charges may apply. You will be advised of the delivery charge before payment.
Read More on our postage & delivery page*exclusions apply
Description
This Grey Hanging Heart is perfect for the shabby chic inspired home decor. offering a beautifully vintage, French country look, made from metal in filigree style.
A great gift idea for anyone that loves the shabby chic style and love hearts.
The heart hangs from grey string and
Made from metal in a dsitressed grey finish, the heart is easily hung from the grey fabric hanger.
If you want to see more items like this, just brwose our Home Decor & Accessories & Heart Decor category for more inspiration.
Additional information
Colour: Grey
Finish: Distressed
Material(s): Metal
23cm x 23cm x 7cm (width x height x depth)
9.1inch x 9.1inch x 2.8inch (width x height x depth)
Weight: 0.30KG