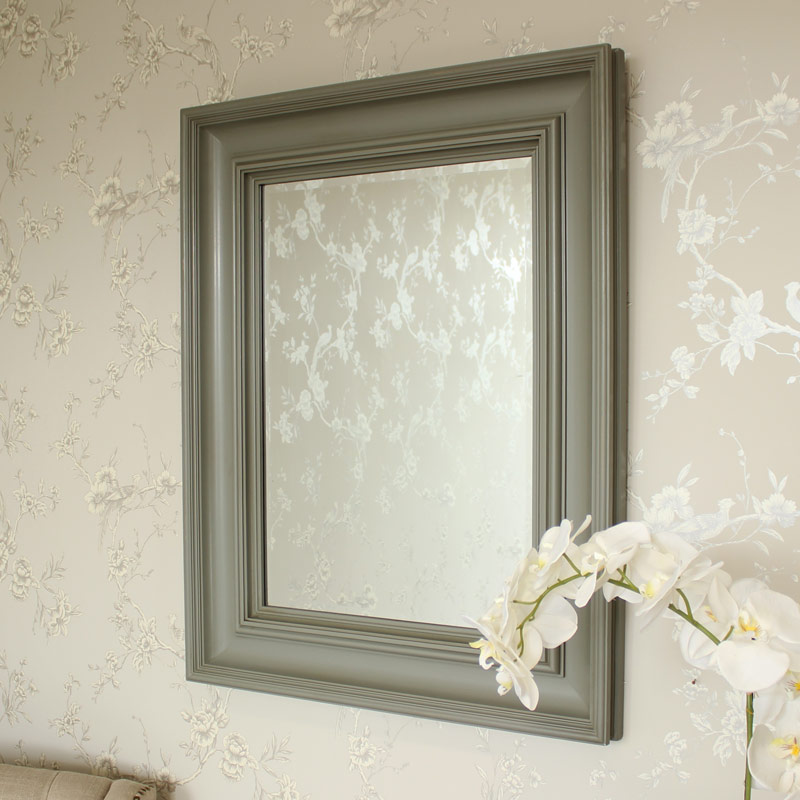 Large Grey Wall Mounted Mirror 76cm x 97cm In grey wooden (mildly distressed) finish. Beautiful country style design. Perfect for hall, mantel or bathroom mirror. Bevelled glass, Almost 1 metre on its longest side. Wall mountable either way round. in a wonderful shade of grey
Large Grey Wall Mounted Mirror 76cm x 97cm
Product code: MM22471
Additional information
Measurements:
76cm x 97cm x 5cm (width x height x depth)
29.9inch x 38.2inch x 2.0inch (width x height x depth)
Delivery
Estimated Delivery: 1-3 working days
Delivery Available
Standard delivery - Delivery by courier between 9am and 5pm within 3 days of order. *exclusions apply

Standard Delivery

£0.00




FREE on orders over £50
Exclusions - Please note these delivery timescales are for UK mainland postcodes only, if you wish to have your order delivered to a non UK postcode, additional delivery time and charges may apply. You will be advised of the delivery charge before payment.
Read More on our postage & delivery page*exclusions apply
Description
Large Grey Wall Mounted Mirror 76cm x 97cm
In grey wooden (mildly distressed) finish. Beautiful country style design. Perfect for hall, mantel or bathroom mirror.
Bevelled glass, Almost 1 metre on its longest side. Wall mountable either way round. in a wonderful shade of grey
A lovely large mirror for over a mantelpiece or hallway
Perfect for those looking for a classic mirror
From the looking glass collection, this Wall Mirror is framed in wood which is carved and painted dark grey.  A lovely large mirror for over a mantle piece or  hanging in the hallway.  Its clean classic lines will suit contemporary styling.  Its measurements are 76 cm x 97 cm x 5 cm (width x height x depth).
Additional information
Colour: Grey
Finish: Painted
Material(s): Wood
76cm x 97cm x 5cm (width x height x depth)
29.9inch x 38.2inch x 2.0inch (width x height x depth)