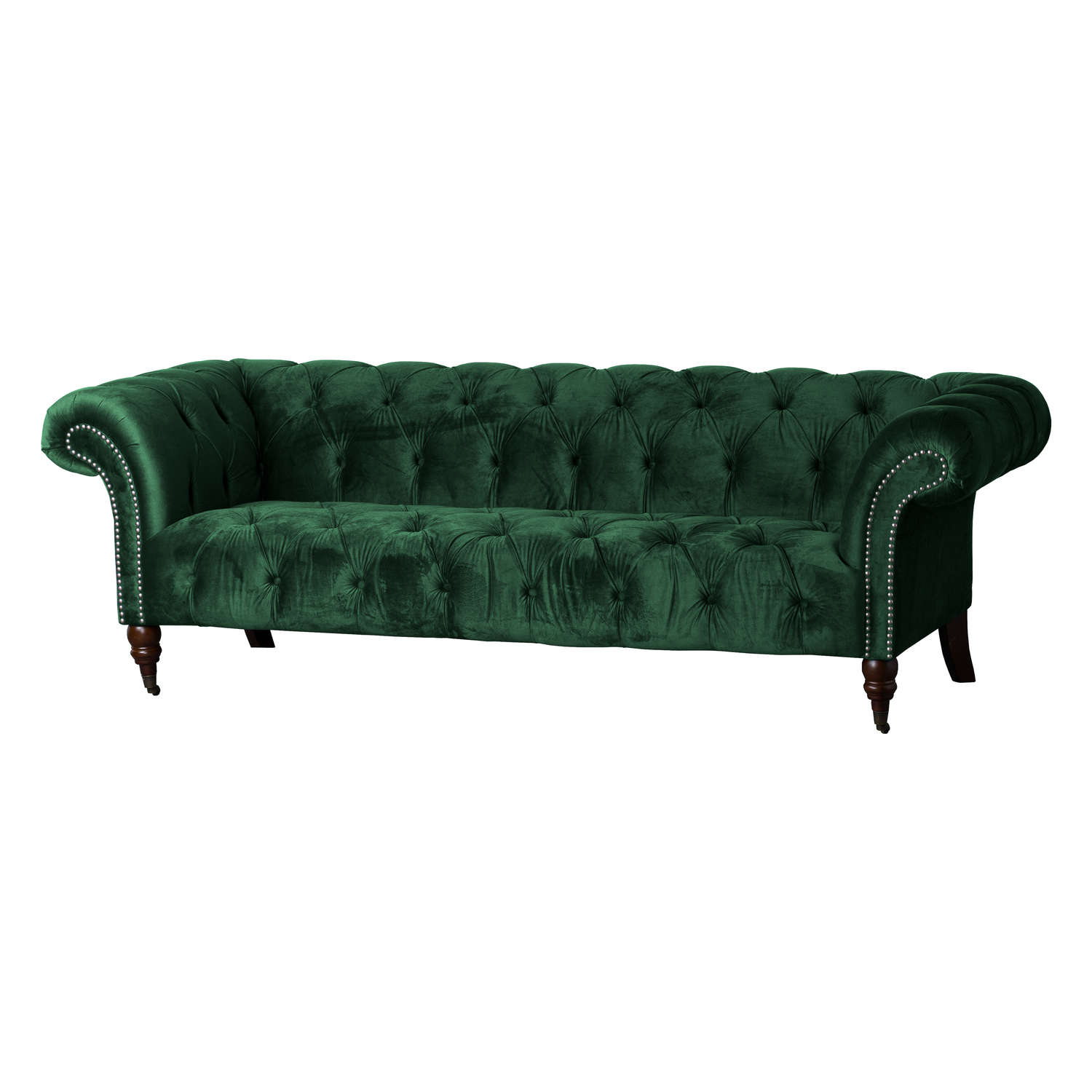 This Large Green Velvet Chesterfield Sofa is perfect for adding a look of lamorous luxury to your home decor. Upholstered in a rich emerald green velvet with studded detailing. The back and sides feature a rolled design to create a sophisticated sense of style. Perfect for modern, contemporary and traditional style interiors. This sumptuously styled sofa offers generous seating space and is a fabulous addition to our collection of velvet sofas, chairs and stools
Large Green Velvet Chesterfield Sofa
Product code: MM30090
Additional information
Measurements:
230cm x 79cm x 98cm (width x height x depth)
90.6inch x 31.1inch x 38.6inch (width x height x depth)
Assembly: Fully assembled
Delivery
Delivery Available
Standard delivery - In most cases, this will be delivered by our own delivery drivers, we will let you know your delivery date within 2 -12 working days of order and provide a 3 hour time-slot 36 hours in advance of delivery. If you live in an area we do not visit, we have to deliver your order via a Third party pallet courier. Please note the pallet delivery will be to your property kerb. Our Pallet delivery company may not be able to provide a time slot in some cases. *exclusions apply

Standard Delivery

£4.95




FREE on orders over £50
Exclusions - Please note these delivery timescales are for UK mainland postcodes only, if you wish to have your order delivered to a non UK postcode, additional delivery time and charges may apply. You will be advised of the delivery charge before payment.
Read More on our postage & delivery page*exclusions apply
Description
This Large Green Velvet Chesterfield Sofa is perfect for adding a look of lamorous luxury to your home decor. Upholstered in a rich emerald green velvet with studded detailing.
The back and sides feature a rolled design to create a sophisticated sense of style. Perfect for modern, contemporary and traditional style interiors.
This sumptuously styled sofa offers generous seating space and is a fabulous addition to our collection of velvet sofas, chairs and stools
Stylish buttoned detailing adds a sense of opulent luxury and gorgeous style. The front legs feature dark wood legs with castors.
Do you wish to see similar items? Browse our Velvet occasional chairs and stools collection for more interior ideas. Or shop our Modern Luxe collection to see all glamorous furniture and home decor.
Additional information
Colour: Green
Material(s): Velvet / Wood
230cm x 79cm x 98cm (width x height x depth)
90.6inch x 31.1inch x 38.6inch (width x height x depth)
Fully assembled