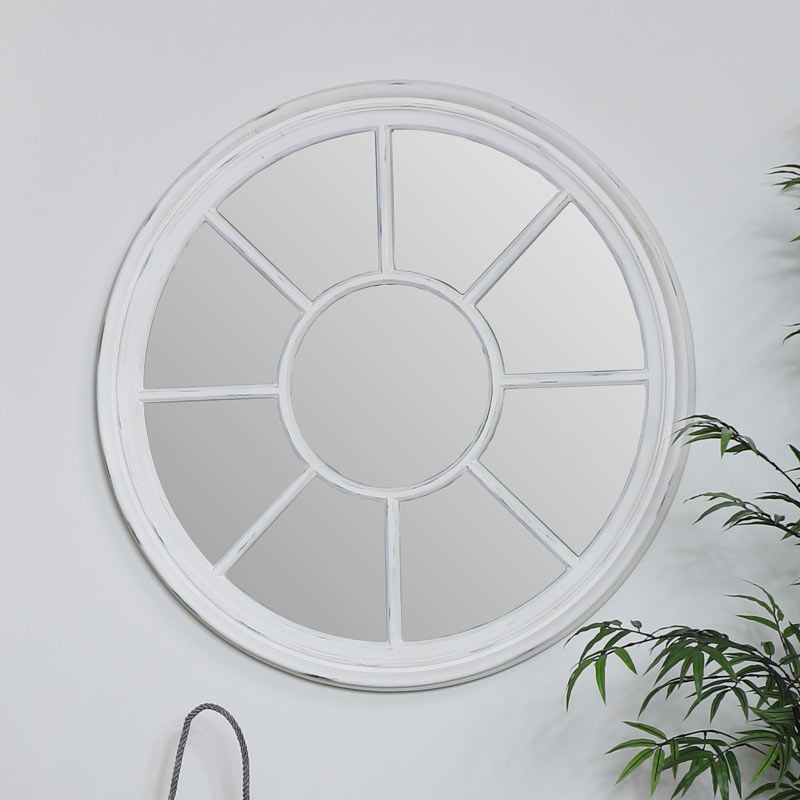 This Large Round White Window Mirror is a stylish wall mirror choice for lovers of white home decor and quirky home accessories. A stylish mirror for a bedroom, living room, dining room or hallway. This would make an excellent piece of statement wall decor. A beautiful round wall mirror made from wood with a classic, vintage inspired window design. This item comes with a distressed white painted finish. A beautiful mirror for a variety of rooms that would fit into vintage, modern, shabby chic or rustic inspired interiors. Please Note: This item may incur weather damage if placed outside
Large Round White Window Mirror
Product code: MM30186
In stock
Multi-buy discount
Quantity
Price:
2-4 Items
£

155.75

5-7 Items
£

150.83

8+ Items
£

147.56
Additional information
Measurements:
90cm x 90cm x 5cm (width x height x depth)
35.4inch x 35.4inch x 2.0inch (width x height x depth)
Weight: 10.50KG
Delivery
Estimated Delivery: 3-12 days
Delivery Available
Click & Collect - Collection available from our store - DN11 8BZ
Proof of card registered address and ID may be required

Click & Collect from Doncaster store

£0.00

Standard delivery - In most cases, this will be delivered by our own delivery drivers, we will let you know your delivery date within 2 -12 working days of order and provide a 3 hour time-slot 36 hours in advance of delivery. If you live in an area we do not visit, we have to deliver your order via a Third party pallet courier. Please note the pallet delivery will be to your property kerb. Our Pallet delivery company may not be able to provide a time slot in some cases. *exclusions apply

Standard Delivery - Sun 24th Oct - Tue 2nd Nov

£4.95




FREE on orders over £50

Weekday Of Choice - We may be able to deliver a day of choice furniture item by our own delivery drivers. However , on most occasions we will have to deliver your order via a pallet for day of choice delivery. Our Pallet delivery company may not be able to provide a time slot in some cases. *exclusions apply

Weekday of choice -

£40.00

Weekend Delivery - We may be able to deliver a day of choice furniture item by our own delivery drivers. However , on some occasions we will have to deliver your order via a pallet for day of choice delivery. Please note the pallet delivery service is a delivery to kerb side only service and Our Pallet delivery company may not be able to provide a time slot in some cases *exclusions apply

Weekend -

£70.00
Exclusions - Please note these delivery timescales are for UK mainland postcodes only, if you wish to have your order delivered to a non UK postcode, additional delivery time and charges may apply. You will be advised of the delivery charge before payment.
Read More on our postage & delivery page*exclusions apply
Description
This Large Round White Window Mirror is a stylish wall mirror choice for lovers of white home decor and quirky home accessories. A stylish mirror for a bedroom, living room, dining room or hallway. This would make an excellent piece of statement wall decor.
A beautiful round wall mirror made from wood with a classic, vintage inspired window design. This item comes with a distressed white painted finish.
A beautiful mirror for a variety of rooms that would fit into vintage, modern, shabby chic or rustic inspired interiors. Please Note: This item may incur weather damage if placed outside
This product is part of a large selection of window mirrors available.
Want to see similar items? Browse our Mirrors category for more home ideas.
Additional information
Colour: White
Material(s): Wood, glass
90cm x 90cm x 5cm (width x height x depth)
35.4inch x 35.4inch x 2.0inch (width x height x depth)
Weight: 10.50KG