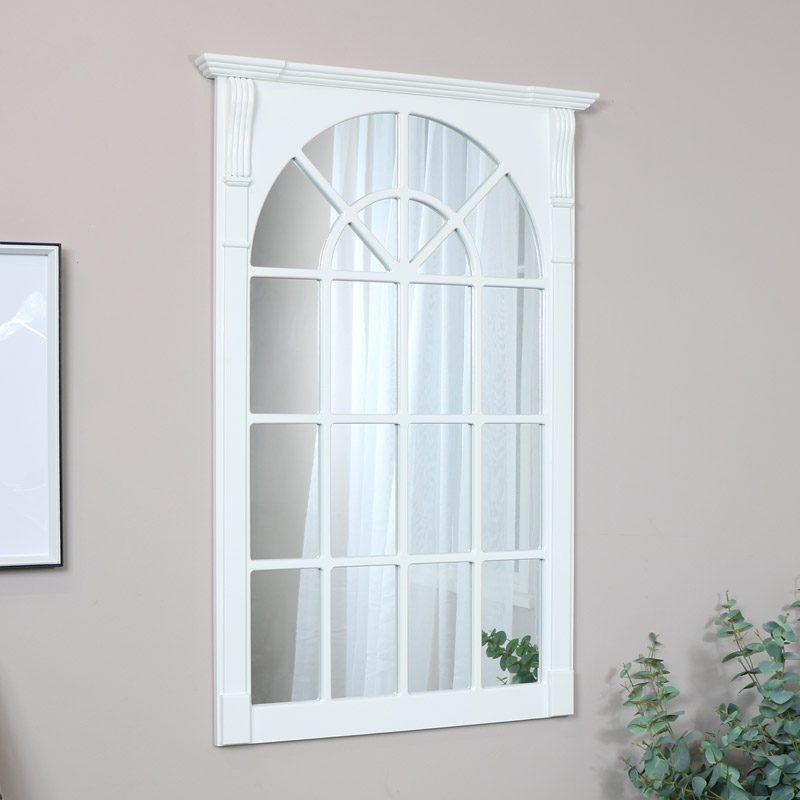 This Large White Wooden Window Mirror will add a little vintage charm to any wall space. Made of wood and glass, this mirror has a rectangle shaped frame, with vintage inspired column detailing. It features an arched mirror design and is complete with a smooth white painted finish. Perfect for placing in a kitchen, dining room, hallway or living room area. This stylish wall mirror could blend into a wide selection of interior due to its neutral colour and sleek finish. Ideal for those with vintage, country, shabby chic or modern inspired spaces. Please Note: This item may incur weather damage if placed outside
Large White Wooden Window Mirror
Product code: MM31516
In stock
Multi-buy discount
Quantity
Price:
2-4 Items
£

103.50

5-7 Items
£

100.23

8+ Items
£

98.06
Additional information
Measurements:
60cm x 100cm x 5cm (width x height x depth)
23.6inch x 39.4inch x 2.0inch (width x height x depth)
Weight: 8.00KG
Delivery
Estimated Delivery: 1-3 working days
Delivery Available
Click & Collect - Collection available from our store - DN11 8BZ
Proof of card registered address and ID may be required

Click & Collect from Doncaster store

£0.00

Standard delivery - Delivery by courier between 9am and 5pm within 3 days of order. *exclusions apply

Standard Delivery - Mon 31st Jan - Wed 2nd Feb

£0.00




FREE on orders over £50

Weekday Of Choice - For delivery on a week day of your choice. Orders to be delivered the following working day, please order by 2pm. Your delivery will be between 9am and 5pm on the day of your choosing. Sorry, specific time slots are not available. *exclusions apply

Weekday of choice -

£7.95

Saturday Delivery - For delivery on a Saturday of your choice If ordering on a Friday before the weekend you want to receive your order please order by 2pm. Your delivery will be between 9am and 5pm on the day of your choosing. Sorry, specific time slots are not available. *exclusions apply

Saturday -

£7.95

Same day dispatch – Please order by 2pm to receive same day dispatch, this will ensure your order leaves our warehouse for delivery the next working day. This will be delivered with a courier, between 9am and 5pm. Time-slot deliveries are not guaranteed. *exclusions apply

Same day despatch - Mon 31st Jan

£7.95
Exclusions - Please note these delivery timescales are for UK mainland postcodes only, if you wish to have your order delivered to a non UK postcode, additional delivery time and charges may apply. You will be advised of the delivery charge before payment.
Read More on our postage & delivery page*exclusions apply
Available in 1 other colours
Description
This Large White Wooden Window Mirror will add a little vintage charm to any wall space. Made of wood and glass, this mirror has a rectangle shaped frame, with vintage inspired column detailing. It features an arched mirror design and is complete with a smooth white painted finish.
Perfect for placing in a kitchen, dining room, hallway or living room area. This stylish wall mirror could blend into a wide selection of interior due to its neutral colour and sleek finish.
Ideal for those with vintage, country, shabby chic or modern inspired spaces. Please Note: This item may incur weather damage if placed outside
Part of a large collection of Window Mirrors available in a wide variety of styles, sizes and finishes.
In need of some more inspiration? View our full Mirrors collection for all available designs.
Additional information
Colour: White
Material(s): Wood
60cm x 100cm x 5cm (width x height x depth)
23.6inch x 39.4inch x 2.0inch (width x height x depth)
Weight: 8.00KG