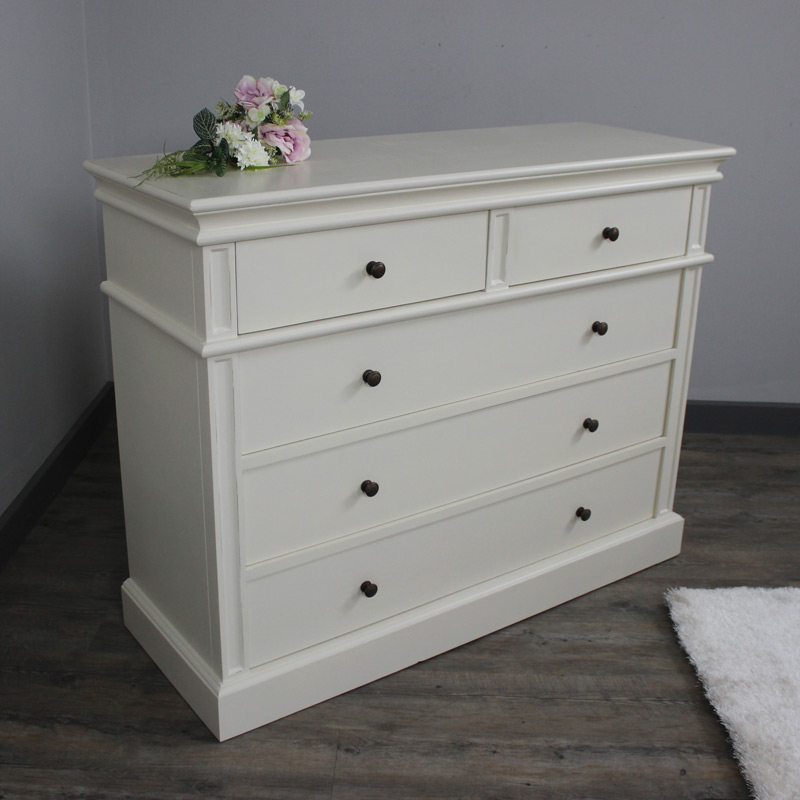 Stylish Cream 2 Over 3 Chest Of Drawers, perfect for vintage and contemporary home decors. Fully assembled, the chest is made from wood in a cream painted finish. The perfect chest of drawers for any decor. Featuring 5 drawer storage in a 2 over 3 design. A great place for safely storing your clothes Stands on a raised plinth and with clean classical lines
Cream 2 Over 3 Chest Of Drawers
Product code: MM23058
Additional information
Measurements:
118cm x 90cm x 42cm (width x height x depth)
46.5inch x 35.4inch x 16.5inch (width x height x depth)
Assembly: Fully assembled
Delivery
Delivery Available
Standard delivery - In most cases, this will be delivered by our own delivery drivers, we will let you know your delivery date within 2 -12 working days of order and provide a 3 hour time-slot 36 hours in advance of delivery. If you live in an area we do not visit, we have to deliver your order via a Third party pallet courier. Please note the pallet delivery will be to your property kerb. Our Pallet delivery company may not be able to provide a time slot in some cases. *exclusions apply

Standard Delivery

£0.00




FREE on orders over £50
Exclusions - Please note these delivery timescales are for UK mainland postcodes only, if you wish to have your order delivered to a non UK postcode, additional delivery time and charges may apply. You will be advised of the delivery charge before payment.
Read More on our postage & delivery page*exclusions apply
Description
Stylish Cream 2 Over 3 Chest Of Drawers, perfect for vintage and contemporary home decors. Fully assembled, the chest is made from wood in a cream painted finish.
The perfect chest of drawers for any decor. Featuring 5 drawer storage in a 2 over 3 design. A great place for safely storing your clothes
Stands on a raised plinth and with clean classical lines
With other items in this range, you can achieve a country look
Useful in a range of room settings
From the London range, this Chest Of Drawers is configured as 2 half-width drawers over 3 full-width ones. It is made from wood, painted cream and has dark knobs. It stands on a raised plinth and has clean classical lines which will enhance any kind of room setting. There are other items in this range to complete or complement a look. The dimensions are 118 cm x 90 cm x 42 cm (width x height x depth).
Additional information
Product Range: London Range
Colour: Cream
Finish: Painted
Material(s): Wood
Material type: Poplar, MDF and Ply
118cm x 90cm x 42cm (width x height x depth)
46.5inch x 35.4inch x 16.5inch (width x height x depth)
Fully assembled