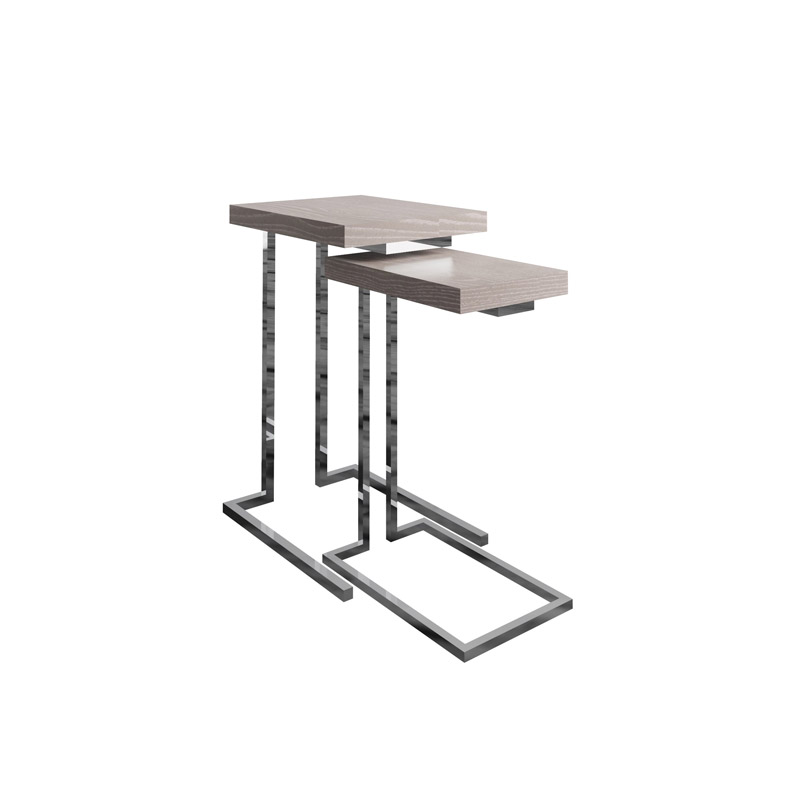 This Nest Of 2 Oak Grey And Chrome C Shape Sofa Tables from the Ezra Range are a perfect stylish furniture choice. Made of Oak, Pine, Rubberwood, Oak Veneer, MDF, Metal with non scratch feet and a chrome and grey oak finish. A stunning set of modern C shape end tables which can easily be placed over the arm of a sofa or chair to stand a cup or glass on. These could also be used in a bedroom or office and come in two sizes which nest together which is ideal for small spaces. A stylish and practical furniture set which is sure to get people talking. These tables would pair perfectly with other furniture pieces from our Ezra range
Nest Of 2 Oak Grey And Chrome C Shape Sofa Tables - Ezra Range
Product code: MM33254
Additional information
Measurements:
45cm x 65cm x 34.5cm (width x height x depth)
17.7inch x 25.6inch x 13.6inch (width x height x depth)
Measurements (other): Small table 38.5cm x 57.5cm x 38.5cm
Delivery
Delivery Available
Standard delivery - Delivery by courier between 9am and 5pm within 3 days of order. *exclusions apply

Standard Delivery

£0.00




FREE on orders over £50
Exclusions - Please note these delivery timescales are for UK mainland postcodes only, if you wish to have your order delivered to a non UK postcode, additional delivery time and charges may apply. You will be advised of the delivery charge before payment.
Read More on our postage & delivery page*exclusions apply
Description
This Nest Of 2 Oak Grey And Chrome C Shape Sofa Tables from the Ezra Range are a perfect stylish furniture choice. Made of Oak, Pine, Rubberwood, Oak Veneer, MDF, Metal with non scratch feet and a chrome and grey oak finish.
A stunning set of modern C shape end tables which can easily be placed over the arm of a sofa or chair to stand a cup or glass on. These could also be used in a bedroom or office and come in two sizes which nest together which is ideal for small spaces.
A stylish and practical furniture set which is sure to get people talking. These tables would pair perfectly with other furniture pieces from our Ezra range
Part of a large collection of Coffee Tables available in a wide selection of styles, sizes and colours.
Want to see more items like this? Browse our Furniture category for more options.
Additional information
Product Range: Ezra
Colour: Silver, Grey, Oak
Material(s): Metal, Oak, Pine, Rubber wood, Oak Veneer, MDF,
45cm x 65cm x 34.5cm (width x height x depth)
17.7inch x 25.6inch x 13.6inch (width x height x depth)
Measurements (other): Small table 38.5cm x 57.5cm x 38.5cm