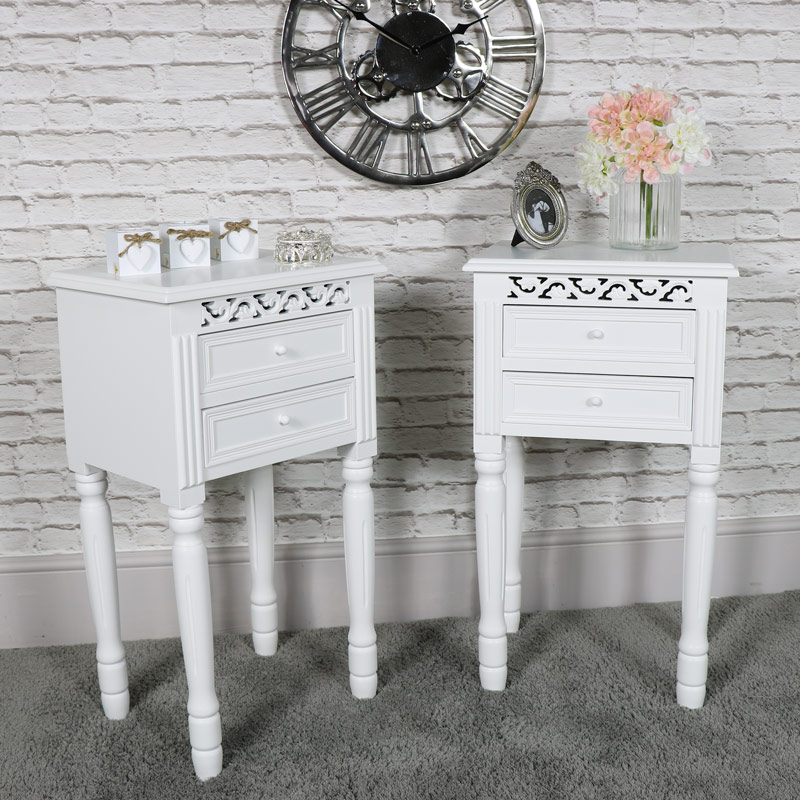 Pair of Ornate White 2 Drawer Bedside Table - Blanche Range Ornate French style bedside tables in a set of 2, perfect for sitting either side of your bed as a night stand. Can also be used in the living room as side/occasional tables, great for holding a table lamp. Designed in a pretty French style and finished in matt white- table has two drawers and fretwork pattern inset . Perfect occasional table or bedside cabinet
Pair of Ornate White 2 Drawer Bedside Table - Blanche Range
Product code: MM26565
Multi-buy discount
Quantity
Price:
2-4 Items
£

216.55

5-7 Items
£

209.71

8+ Items
£

205.16
Additional information
Measurements:
41cm x 71cm x 33cm (width x height x depth)
16.1inch x 28.0inch x 13.0inch (width x height x depth)
Assembly: Partially assembled
Weight: 15.20KG
Delivery
Delivery Available
Standard delivery - Delivery by courier between 9am and 5pm within 3 days of order. *exclusions apply

Standard Delivery

£0.00




FREE on orders over £50
Exclusions - Please note these delivery timescales are for UK mainland postcodes only, if you wish to have your order delivered to a non UK postcode, additional delivery time and charges may apply. You will be advised of the delivery charge before payment.
Read More on our postage & delivery page*exclusions apply
Description
Pair of Ornate White 2 Drawer Bedside Table - Blanche Range
Ornate French style bedside tables in a set of 2, perfect for sitting either side of your bed as a night stand. Can also be used in the living room as side/occasional tables, great for holding a table lamp.
Designed in a pretty French style and finished in matt white- table has two drawers and fretwork pattern inset . Perfect occasional table or bedside cabinet
Made from wood in a white painted finish
Matching items in this range
From our 'Blanche' range, this 2 drawer Bedside Table is designed in a pretty French style, made from wood, and finished in matt white.  It has carved legs and a trefoil fretwork pattern carved above the drawers.  There are button knobs to the panelled drawers.  Whilst aimed at being a companion to other furniture for the bedroom from this range, it would also provide a perfect occasional table for your lamp or telephone in other rooms of the home.  Its dimensions are 41 cm x 71 cm x 33 cm (width x height x depth).  There are multiple matching items in this range.

 

 

 
Additional information
Product Range: Blanche
Colour: White
Finish: Matt
Material(s): Wood
Material type: MDF
41cm x 71cm x 33cm (width x height x depth)
16.1inch x 28.0inch x 13.0inch (width x height x depth)
Weight: 15.20KG
Partially assembled