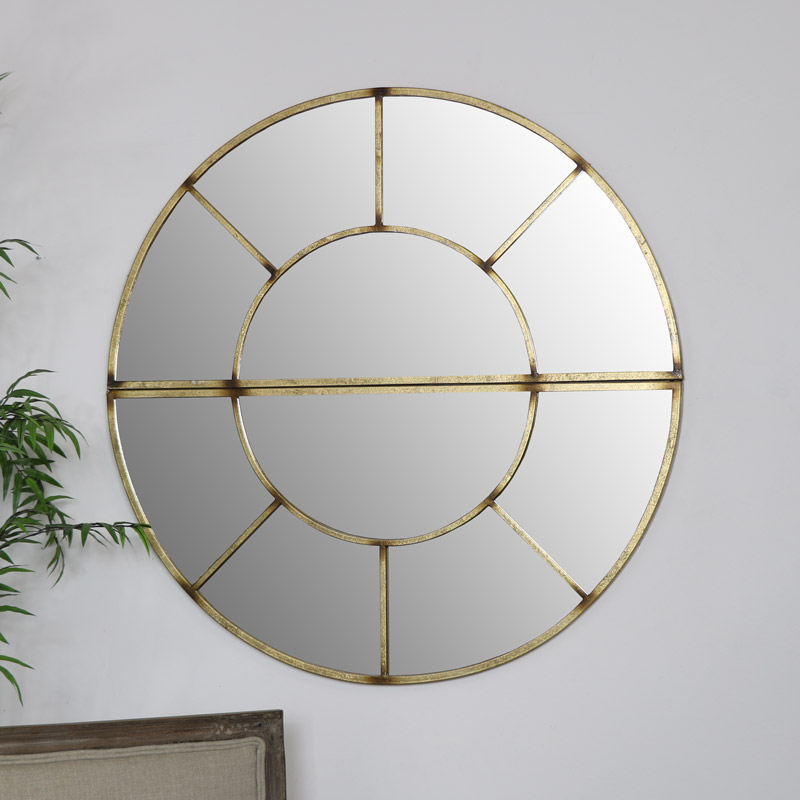 This Round Gold Sectional Wall Mirror is a stylish, art deco inspired gold mirror that would make a statement in any room, Ideal for sitting above a mantle piece, console table or as a stand alone wall decor piece. This stunning gold home accessory comprises of two half circle mirrors that can be wall mounted together to make a full circle mirror or space apart for an eclectic look. A fabulous gold wall mirror for those who prefer glamorous home decor, quirky design or art deco inspired home accessories. Please Note: This item may incur weather damage if placed outside
Round Gold Sectional Wall Mirror
Product code: MM30240
Multi-buy discount
Quantity
Price:
2-4 Items
£

159.55

5-7 Items
£

154.51

8+ Items
£

151.16
Additional information
Measurements:
92cm x 46cm x 2.5cm (width x height x depth)
36.2inch x 18.1inch x 1.0inch (width x height x depth)
Measurements (other): When both half mirrors are together: 92cm W X 92cm H X 25cm D
Weight: 8.00KG
Delivery
Delivery Available
Standard delivery - Delivery by courier between 9am and 5pm within 3 days of order. *exclusions apply

Standard Delivery

£0.00




FREE on orders over £50
Exclusions - Please note these delivery timescales are for UK mainland postcodes only, if you wish to have your order delivered to a non UK postcode, additional delivery time and charges may apply. You will be advised of the delivery charge before payment.
Read More on our postage & delivery page*exclusions apply
Description
This Round Gold Sectional Wall Mirror is a stylish, art deco inspired gold mirror that would make a statement in any room, Ideal for sitting above a mantle piece, console table or as a stand alone wall decor piece.
This stunning gold home accessory comprises of two half circle mirrors that can be wall mounted together to make a full circle mirror or space apart for an eclectic look.
A fabulous gold wall mirror for those who prefer glamorous home decor, quirky design or art deco inspired home accessories. Please Note: This item may incur weather damage if placed outside
Part of a large collection of mirrors available in a wide variety of sizes, styles and colours.
Want to see more options? Browse our Gold Mirrors category for more inspiration.
Additional information
Colour: Gold
Material(s): Metal, Glass
92cm x 46cm x 2.5cm (width x height x depth)
36.2inch x 18.1inch x 1.0inch (width x height x depth)
Measurements (other): When both half mirrors are together: 92cm W X 92cm H X 25cm D
Weight: 8.00KG