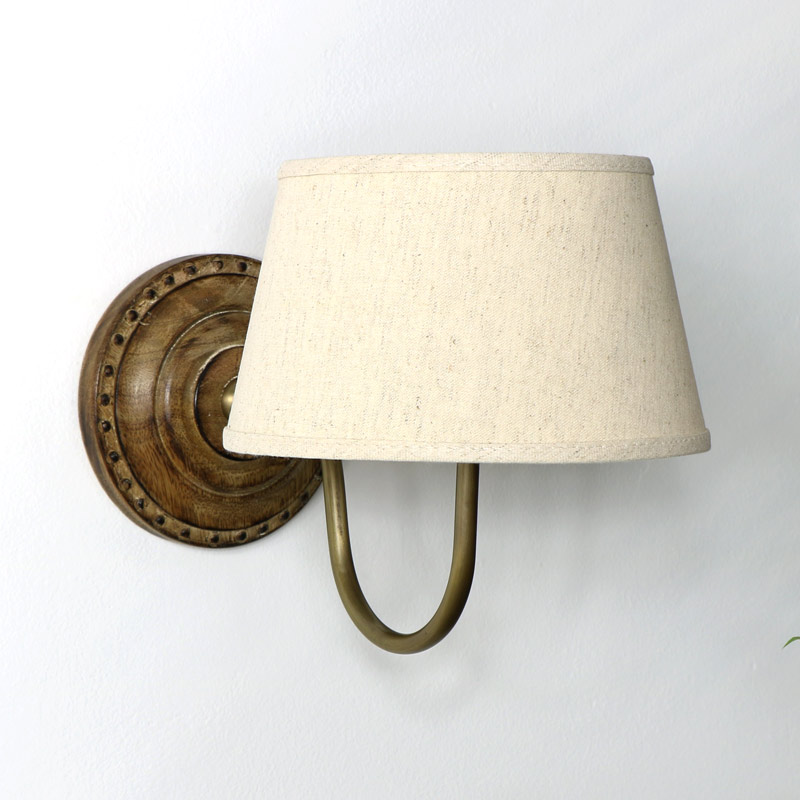 This Rustic Beige Linen Wall Light is a fabulous farmhouse style wall light choice for those who prefer country inspired design. Made of wood, metal and linen, this wall light comprises of a rustic wooden backplate with brass arm and tapered beige linen shade. A fabulous wall light choice for a hallway, living room, dining room or bedroom space. This neutral wall light would work well in country, vintage, rustic or farmhouse style interiors. Part of a wide collection of wall light available in a wide variety of colours
Rustic Beige Linen Wall Light
Product code: MM29104
In stock
Additional information
Measurements:
20cm x 23cm x 33cm (width x height x depth)
7.9inch x 9.1inch x 13.0inch (width x height x depth)
Weight: 3.06KG
Delivery
Estimated Delivery: 1-3 working days
Delivery Available
Click & Collect - Collection available from our store - DN11 8BZ
Proof of card registered address and ID may be required

Click & Collect from Doncaster store

£0.00

Standard delivery - Delivered with royal mail between 9am and 5pm. *exclusions apply

Standard Delivery - Fri 27th May - Mon 30th May

£4.95




FREE on orders over £50

Express Delivery - Fri 27th May

£7.95

Weekday Of Choice - For delivery on a week day of your choice. Orders to be delivered the following working day, please order by 2pm. Your delivery will be between 9am and 5pm on the day of your choosing. Sorry, specific time slots are not available. *exclusions apply

Weekday of choice -

£7.95

Weekend Delivery, For delivery on a Saturday or Sunday of your choice If ordering on a Friday before the weekend you want to receive your order please order by 2pm. Your delivery will be between 9am and 5pm on the day of your choosing. Sorry, specific time slots are not available. *exclusions apply

Weekend -

£16.95
Exclusions - Please note these delivery timescales are for UK mainland postcodes only, if you wish to have your order delivered to a non UK postcode, additional delivery time and charges may apply. You will be advised of the delivery charge before payment.
Read More on our postage & delivery page*exclusions apply
Available in 1 other styles
Description
This Rustic Beige Linen Wall Light is a fabulous farmhouse style wall light choice for those who prefer country inspired design. Made of wood, metal and linen, this wall light comprises of a rustic wooden backplate with brass arm and tapered beige linen shade.
A fabulous wall light choice for a hallway, living room, dining room or bedroom space. This neutral wall light would work well in country, vintage, rustic or farmhouse style interiors.
Part of a wide collection of wall light available in a wide variety of colours
Constructed with a rustic wooden backplate, brass arm and beige linen shade. Takes max 60 watt bulb
We have a selection of wall lights, ceiling pendants and table lamps for you to add just the right amount of lighting you need for your home.
Additional information
Colour: Brown / Beige
Finish: Rustic
Material(s): Wood / Metal / Linen
20cm x 23cm x 33cm (width x height x depth)
7.9inch x 9.1inch x 13.0inch (width x height x depth)
Weight: 3.06KG