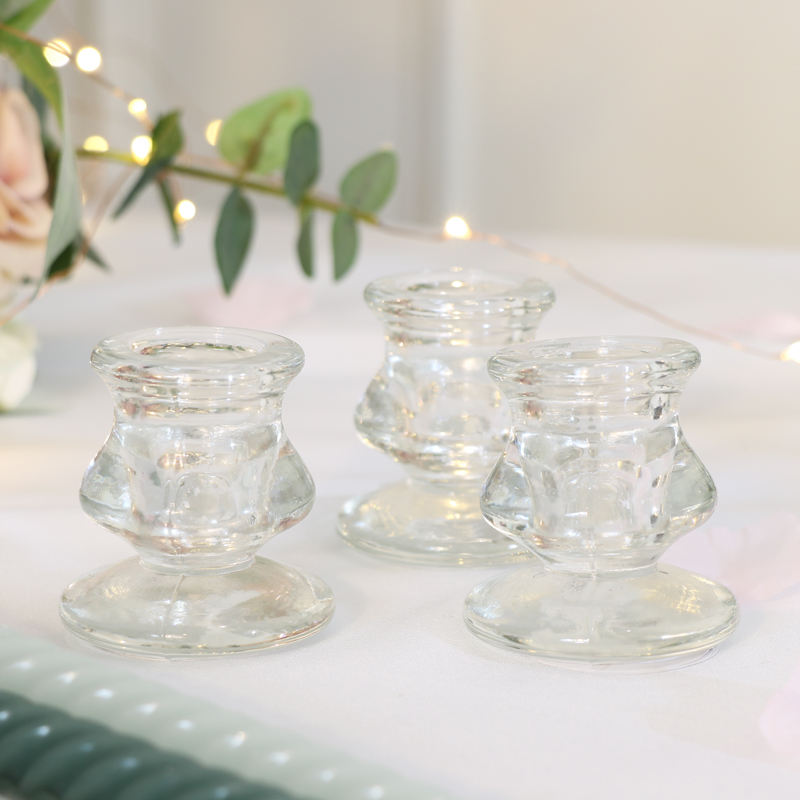 This Set Of 3 Boho Glass Dinner Candle Holders are a stunning piece of deco for lovers of boho inspired home accessories. Made of clear glass, these candle holders have a curved design and each hold one tapper candle. This set of glass candles are perfect for using as wedding table decor, at a party or event. These would also look stunning placed on a shelf, side table, mantlepiece or as a table centre piece in a home. This striking set of candle holders would look stunning paired with our Set Of 3 Green Taper Dinner Candles
Set Of 3 Boho Glass Dinner Candle Holders
Product code: MM33100
Additional information
Measurements:
5.5cm x 6cm x 5.5cm (width x height x depth)
2.2inch x 2.4inch x 2.2inch (width x height x depth)
Measurements (other): Measurements: Please note measurements shown are per candle holder.
Weight: 0.70KG
Delivery
Estimated Delivery: 1-3 working days
Delivery Available
Standard delivery - Delivered with royal mail between 9am and 5pm. *exclusions apply

Standard Delivery

£4.95




FREE on orders over £50
Exclusions - Please note these delivery timescales are for UK mainland postcodes only, if you wish to have your order delivered to a non UK postcode, additional delivery time and charges may apply. You will be advised of the delivery charge before payment.
Read More on our postage & delivery page*exclusions apply
Description
This Set Of 3 Boho Glass Dinner Candle Holders are a stunning piece of deco for lovers of boho inspired home accessories. Made of clear glass, these candle holders have a curved design and each hold one tapper candle.
This set of glass candles are perfect for using as wedding table decor, at a party or event. These would also look stunning placed on a shelf, side table, mantlepiece or as a table centre piece in a home.
This striking set of candle holders would look stunning paired with our Set Of 3 Green Taper Dinner Candles
Part of a large collection of Candle Holders available in a wide selection of styles, sizes and colours.
Want to see more items like this? Browse our Home Decor & Accessories category for more options.
Additional information
Colour: Clear
Finish: Smooth
Material(s): Glass
5.5cm x 6cm x 5.5cm (width x height x depth)
2.2inch x 2.4inch x 2.2inch (width x height x depth)
Measurements (other): Measurements: Please note measurements shown are per candle holder.
Weight: 0.70KG