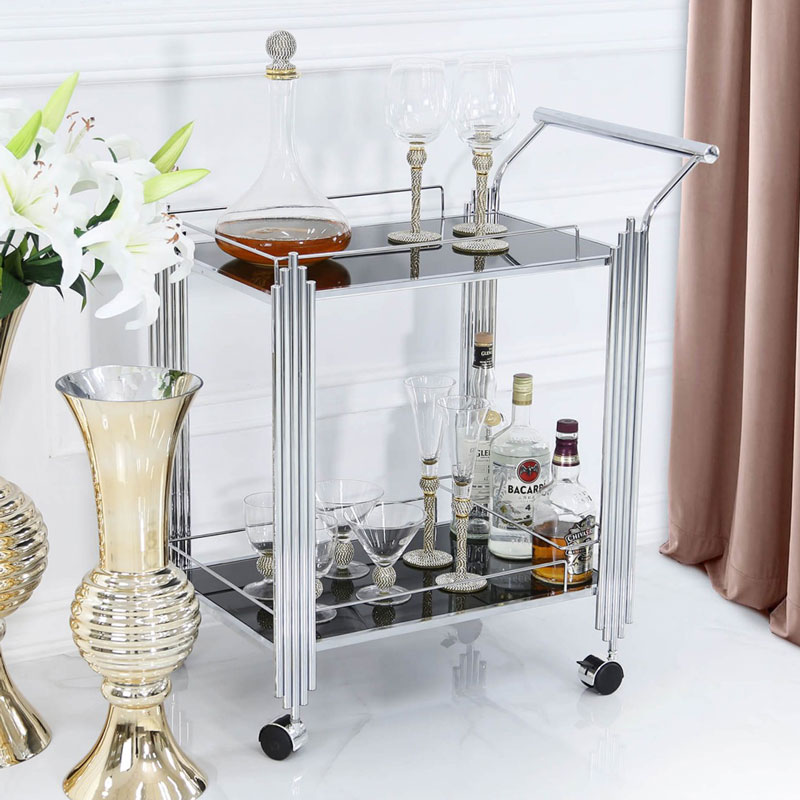 This Silver & Black Glass Drinks Trolley is the perfect addition and choice for any modern, art deco or contemporary styled space. With it's two tiers made from glass and metal frame this bar cart offers a great storage solution that is perfect for the living room, dining room or home bar. Art deco inspired design with 2 rectangle black glass shelves, easy to move with wheeled base. Ideal for the home bar or anyone who loves to entertain with dinner parties. This black and silver drinks trolley could be used to store drinks, plants or other home decor details
Silver & Black Glass Drinks Trolley
Product code: MM30248
Additional information
Measurements:
80cm x 80cm x 39.5cm (width x height x depth)
31.5inch x 31.5inch x 15.6inch (width x height x depth)
Delivery
Estimated Delivery: 1-3 working days
Delivery Available
Standard delivery - Delivery by courier between 9am and 5pm within 3 days of order. *exclusions apply

Standard Delivery

£4.95




FREE on orders over £50
Exclusions - Please note these delivery timescales are for UK mainland postcodes only, if you wish to have your order delivered to a non UK postcode, additional delivery time and charges may apply. You will be advised of the delivery charge before payment.
Read More on our postage & delivery page*exclusions apply
Description
This Silver & Black Glass Drinks Trolley is the perfect addition and choice for any modern, art deco or contemporary styled space. With it's two tiers made from glass and metal frame this bar cart offers a great storage solution that is perfect for the living room, dining room or home bar.
Art deco inspired design with 2 rectangle black glass shelves, easy to move with wheeled base. Ideal for the home bar or anyone who loves to entertain with dinner parties.
This black and silver drinks trolley could be used to store drinks, plants or other home decor details
Part of a selection of drinks trolleys available in a variety of colours, sizes and style
Want to see more items like this one? View our Modern Luxe category for more glamorous home ideas.
Additional information
Colour: Silver / Black
Material(s): Metal / Glass
Material type: Chrome
80cm x 80cm x 39.5cm (width x height x depth)
31.5inch x 31.5inch x 15.6inch (width x height x depth)