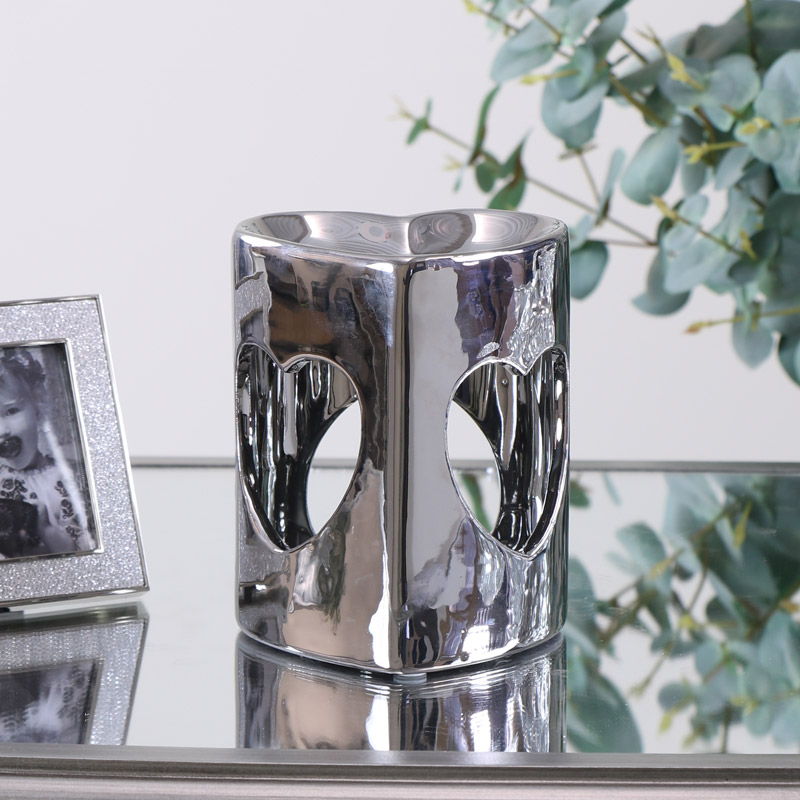 This Silver Heart shaped Oil Burner is a stylish piece of silver décor for burning your favourite oils and wax melts. Made of ceramic with a heart shaped design, this burner has an opening to the rear for easy tealight placing but also features 2 heart shaped window to allow a warming ambience to fill your home along with the scent of your chosen fragrance. A perfect gift for people who love candles, essential oils and silver home décor. This would become the focal point of your console, shelf or even mantelpiece. This is also available in white
Silver Heart Shaped Oil Burner
Product code: MM32411
In stock
Additional information
Measurements:
13cm x 10.5cm x 10cm (height x width x depth)
5.1inch x 4.1inch x 3.9inch (height x width x depth)
Weight: 0.70KG
Delivery
Estimated Delivery: 1-3 working days
Delivery Available
Click & Collect - Collection available from our store - DN11 8BZ
Proof of card registered address and ID may be required

Click & Collect from store

£0.00

Standard delivery - Delivered with royal mail between 9am and 5pm. *exclusions apply

Standard Delivery - Sat 18th Sep - Tue 21st Sep

£4.95




FREE on orders over £50

Weekday Of Choice - For delivery on a week day of your choice. Orders to be delivered the following working day, please order by 2pm. Your delivery will be between 9am and 5pm on the day of your choosing. Sorry, specific time slots are not available. *exclusions apply

Weekday of choice -

£7.95

Same day dispatch – Please order by 2pm to receive same day dispatch, this will ensure your order leaves our warehouse for delivery the next working day. This will be delivered with royal mail, between 9am and 5pm. *exclusions apply

Same day despatch - Sat 18th Sep

£7.95

Weekend Delivery, For delivery on a Saturday or Sunday of your choice If ordering on a Friday before the weekend you want to receive your order please order by 2pm. Your delivery will be between 9am and 5pm on the day of your choosing. Sorry, specific time slots are not available. *exclusions apply

Weekend -

£16.95
Exclusions - Please note these delivery timescales are for UK mainland postcodes only, if you wish to have your order delivered to a non UK postcode, additional delivery time and charges may apply. You will be advised of the delivery charge before payment.
Read More on our postage & delivery page*exclusions apply
Description
This Silver Heart shaped Oil Burner is a stylish piece of silver décor for burning your favourite oils and wax melts. Made of ceramic with a heart shaped design, this burner has an opening to the rear for easy tealight placing but also features 2 heart shaped window to allow a warming ambience to fill your home along with the scent of your chosen fragrance.
A perfect gift for people who love candles, essential oils and silver home décor. This would become the focal point of your console, shelf or even mantelpiece.
This is also available in white
Part of a large collection of Candle Holders available in a wide array of sizes, colours and finishes.
Want to see more items like this? Browse our Home Decor collection for more options.
Additional information
Colour: Silver
Material(s): Ceramic
13cm x 10.5cm x 10cm (height x width x depth)
5.1inch x 4.1inch x 3.9inch (height x width x depth)
Weight: 0.70KG