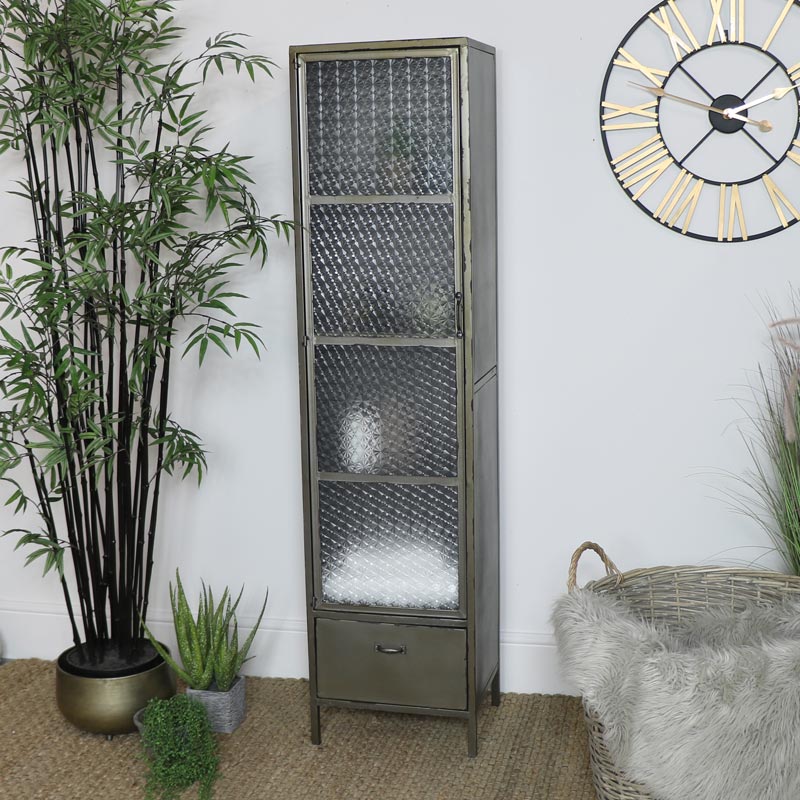 This Slim Grey Metal Glass Fronted Storage Cabinet is practical and stylish. Slim design with patterned glass fronted door and drawer storage. Ideal for the industrial themed home decor. This slim grey metal cabinet could easily be used inthe living room, bathroom or kitchen for storage purposes. With 4 spacious shelves and drawer to the bottom. Perfect for storing towels, toiletries and many other home decor items
Slim Grey Metal Glass Fronted Storage Cabinet
Product code: MM31171
Out of stock
Additional information
Measurements:
40cm x 162cm x 35cm (width x height x depth)
15.7inch x 63.8inch x 13.8inch (width x height x depth)
Weight: 20.00KG
Delivery
Estimated Delivery: 3-12 days
Delivery Available
Click & Collect - Collection available from our store - DN11 8BZ
Proof of card registered address and ID may be required

Click & Collect from Doncaster store

£0.00

Standard delivery - In most cases, this will be delivered by our own delivery drivers, we will let you know your delivery date within 2 -12 working days of order and provide a 3 hour time-slot 36 hours in advance of delivery. If you live in an area we do not visit, we have to deliver your order via a Third party pallet courier. Please note the pallet delivery will be to your property kerb. Our Pallet delivery company may not be able to provide a time slot in some cases. *exclusions apply

Standard Delivery - Wed 25th May - Thu 9th Jun

£0.00




FREE on orders over £50

Weekday Of Choice - We may be able to deliver a day of choice furniture item by our own delivery drivers. However , on most occasions we will have to deliver your order via a pallet for day of choice delivery. Our Pallet delivery company may not be able to provide a time slot in some cases. *exclusions apply

Weekday of choice -

£44.95

Weekend Delivery - We may be able to deliver a day of choice furniture item by our own delivery drivers. However , on some occasions we will have to deliver your order via a pallet for day of choice delivery. Please note the pallet delivery service is a delivery to kerb side only service and Our Pallet delivery company may not be able to provide a time slot in some cases *exclusions apply

Weekend -

£74.95
Exclusions - Please note these delivery timescales are for UK mainland postcodes only, if you wish to have your order delivered to a non UK postcode, additional delivery time and charges may apply. You will be advised of the delivery charge before payment.
Read More on our postage & delivery page*exclusions apply
Description
This Slim Grey Metal Glass Fronted Storage Cabinet is practical and stylish. Slim design with patterned glass fronted door and drawer storage. Ideal for the industrial themed home decor.
This slim grey metal cabinet could easily be used inthe living room, bathroom or kitchen for storage purposes. With 4 spacious shelves and drawer to the bottom.
Perfect for storing towels, toiletries and many other home decor items
This cabinet is part of a large collection of sideboards available in a wide variety of sizes, styles and finishes.
Want to see more furniture like this? Take a look at our full furniture selection for more sideboards and cabinets options.
Additional information
Colour: Grey
Material(s): Metal / Glass
40cm x 162cm x 35cm (width x height x depth)
15.7inch x 63.8inch x 13.8inch (width x height x depth)
Weight: 20.00KG