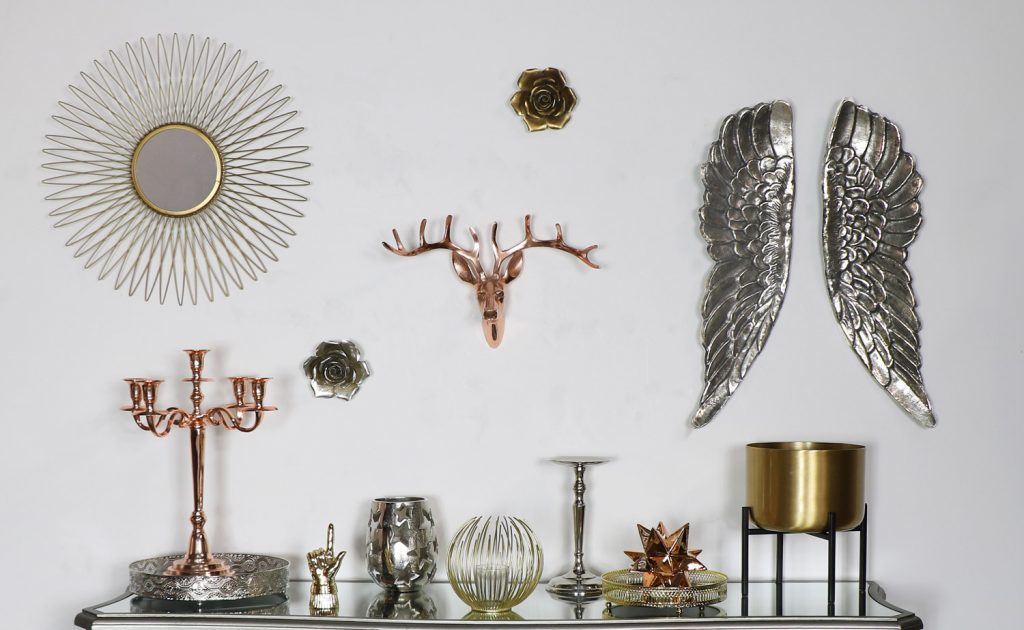 Metallic furniture, mirrors and home decor are trending right now!
It's never been easier to add a little Gold, Silver or Copper to your home decor and introducing metal tones into your interior can completely transform a room.
If you are unsure where to start and need a little guidance, read ahead and let us help!

Gold
Gold is probably the easiest metallic tone to work with, there is a huge variation of gold tones and finishes to choose from.
Going for a sleek, modern look? Yellow toned golds with a high shine finish are ideal.
Love vintage style? A honey gold with antique distressing would work best.
Seeking a more industrial vibe? Brass gold tones with a brushed effect are well suited for this style.
Gold can work in any style interior, it's all about finding the right tone for you.
So, what are the easiest ways of introducing gold into your decor?
Gold furniture is the quickest way to make Gold a significant part of your interior theme and choosing items such as a console table, a coffee table or a side table will immediately make Gold a distinct colour choice.
Gold Mirrors are one of our best selling items, we even have a whole category dedicated to this style!
For those unsure about adding Gold items to a room, a Gold mirror is a great place to start.
If you feel your bathroom, living room or bedroom needs a little metallic style adding to it, a Gold Mirror is the best place to start. Understated, glamorous and always stylish, gold mirrors can add a glamorous touch to any interior.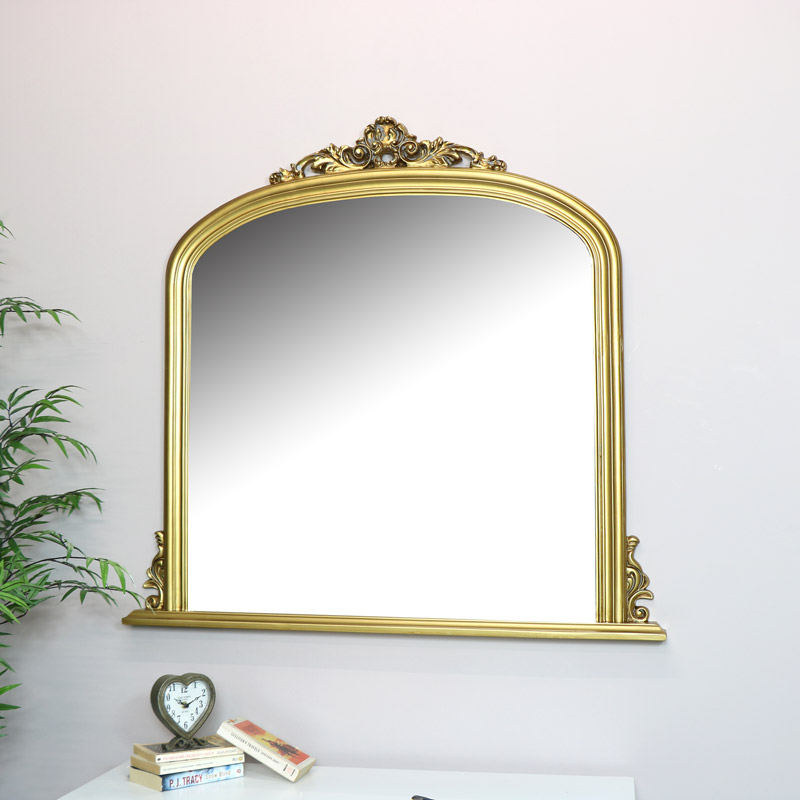 Gold home decor is an easy way to introduce metallics to your interior. Simple style features like planters, shelving, wall art and candle holders can make all the difference when introducing metallics into a room.

Silver
Silver is a classic metallic interior design choice.
Silver has long reigned king of metallic tones due to its versatility, availability and association with all things modern.
Silver is undoubtedly the easiest metal tone to match, style and source. There are a huge array of Silver, Chrome and Steely toned products available to choose from for all home decor themes.
But, with all this choice, where do you start?
Silver furniture never goes out of style and can be included in any room. Though often used in modern style interiors, silver can also be used in vintage, traditional or industrial style spaces. If you know Silver is the way you want to go with your metallic tones, then silver furniture is a great investment.
You could make a statement with a large furniture piece, such as a sideboard, dining table chest of drawers. Alternatively chose smaller pieces like a side table or a wall unit for a less ostentatious result.

Silver mirrors are the quickest way to make Silver your metallic accent tone. Silver mirrors come a wide variety of shades, styles and finishes. From the sleek to the ornate, from minimalist style to vintage design; there is a Silver mirror out there to suit all tastes.
Silver home decor can blend into any room. You can easily introduce silver into your bedroom, living room or dining room space by investing in a few key pieces. Items like clocks, candle holders and mirrored trays can tie together a silver theme, without the metallic tone over taking the space.
Copper
Copper has skyrocketed in popularity over the last few years and there are more interior options now than ever before. Copper is the ideal metallic tone choice for those who find Silver too simple and Gold too gaudy – its right in between! Copper has the warmth of Gold with the contemporary edge of Silver.
So now that Copper is widely accepted in the interior world, how do you begin to style it?
Like any metallic tone, furniture would be the first place to start. As copper has such as distinct colour, you should be wary of overpowering the space. Go for furniture options like this Vico Range Copper Chest or this Copper & Black Side Table. A simple furniture design with copper detailing will accentuate your metallic accent choice, not overwhelm the rest of the room.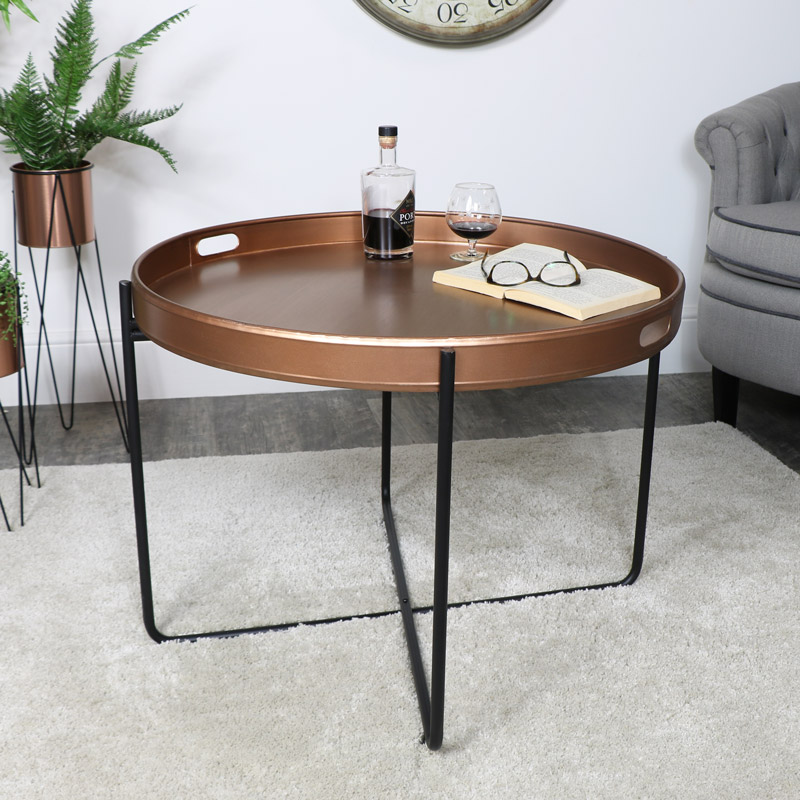 Copper Mirrors are a stylish yet simple way of adding Copper or Rose Gold tones to your home. Copper Mirrors have become one of our top selling mirror designs and is a fantastic way to add a little copper charm to your home. As copper is a trending interior colour choice, opt for a trending mirror design. Round mirrors are hugely popular in the interior design world at the moment, jump on two trends in one and go for a Round Copper Mirror.
Copper home accessories can freshen up any room and create a luxurious yet contemporary feel in a space. If you are after a modern look, go for minimalist inspired copper decor with clean lines and a shiny finish.
Going for a more vintage styles space? Items with ornate or cut out detailing will help you achieve this look. Are industrial spaces more your style? Opt for a dulled, distressed or brushed copper finish to highlight this feel.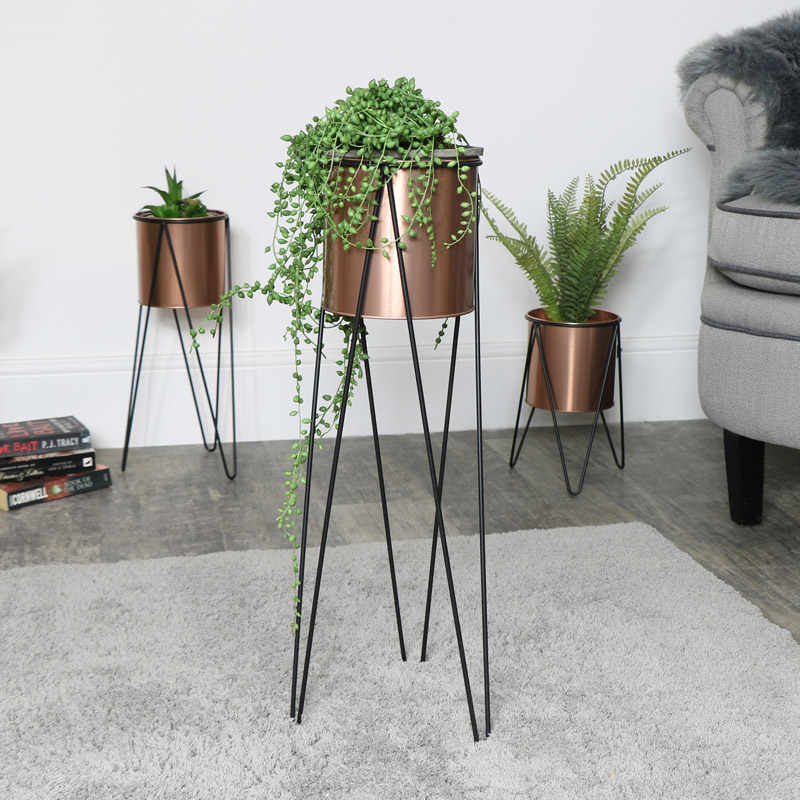 ---
Metallic Mania
Want to view more Metallic items? Browse our Metallic Mania category for more home ideas!
Shop Now: https://www.melodymaison.co.uk/metallic-mania/
Bathroom Bedroom Furniture Home Decor & Accessories Living Room Mirrors See Everything