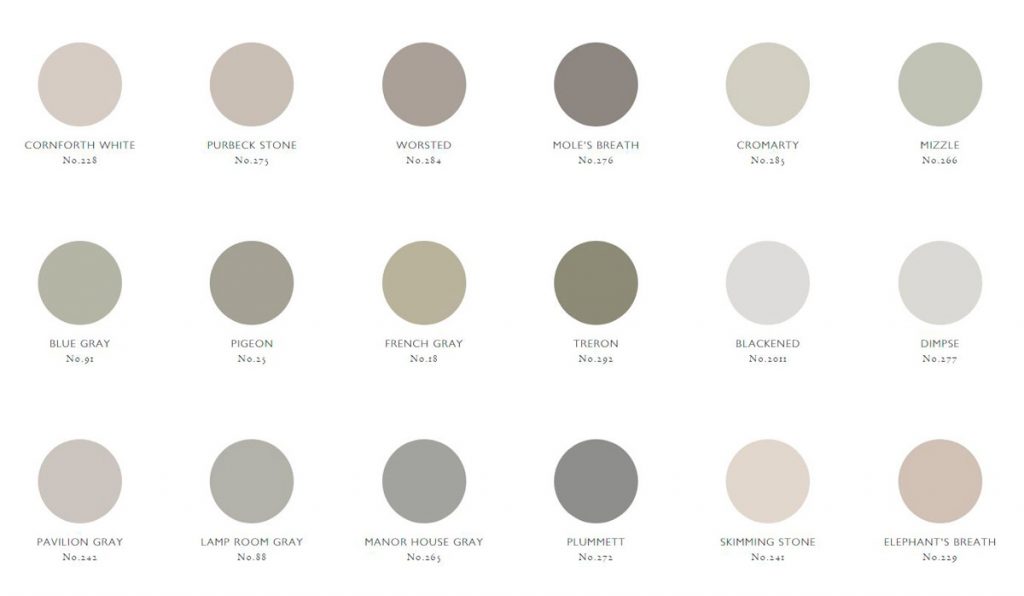 Grey is the new White!
Grey has become the go to base colour for interiors, a little more interesting than white while still staying neutral. Grey can work in any space, no matter what style you interior is.
But how do you pick the right shade? Let us talk you through choosing the right tone of Grey for your living space.
What types of Grey are there?
Before you start ordering paint samples and trying to match your furniture and decor, you must choose what type of Grey tone you're looking for.
So, what exactly is the difference between the types of Grey available?
Pale Greys
Pale Greys are the perfect choice for those wanting to dip their toe in the Grey spectrum. A Pale Grey colour can be included in a wide variety of interior styles, but works particularly well with Scandinavian, vintage and modern inspired interiors.
Pale Greys are known for their light and airy feel and are ideal for southern facing rooms that get plenty of natural light, as they can make a room appear larger and brighter.
Pale Greys tend to be cool toned and have a blue or green undertone, creating a crisp, elegant atmosphere.
Dark Greys
Dark Greys are bold, dramatic and can instantly introduce a sense of character to a room. For many, a Dark Grey tone is synonymous with more industrial style interiors, but that doesn't have to be the case! Dark Greys can be used in a wide selection of interiors, they just have to be paired with the right accent colours, so the darker tone doesn't overpower the room and seem draining.
Due to their atmospheric feel Dark Greys work best in spaces that are playing with extremes – think either very minimalist or very maximalist spaces. For those who love bright colours, Dark Grey would be the best base colour choice, as bold colours such as fuchsia, cerulean or emerald look fabulous against this backdrop.
Warm Greys
For many, Grey in general is viewed as quite a cold, unemotional colour. This perception can be a positive when it comes to rooms like kitchens or bathrooms, where cool grey tones promote the feeling of cleanliness.
But what if you want to introduce grey into your bedroom or living room, where cosiness is key? This is where Warmer tones really shine!
Warm Greys tend to have a yellow or pink undercurrent that lends them depth, creating a warm feeling. These warm shades work best in spaces lacking in natural light, such as North facing rooms.
How do I style my home with Grey?
Now you know what the difference is between the many shades of Grey and have hopefully decided on which Grey you are going for, you need to style the space.
Perhaps, instead of using Grey as your main wall colour, you are instead introducing Grey into your home via your choice of Furniture, Mirrors or Accessories.
So, what items of our fit where in the Grey spectrum?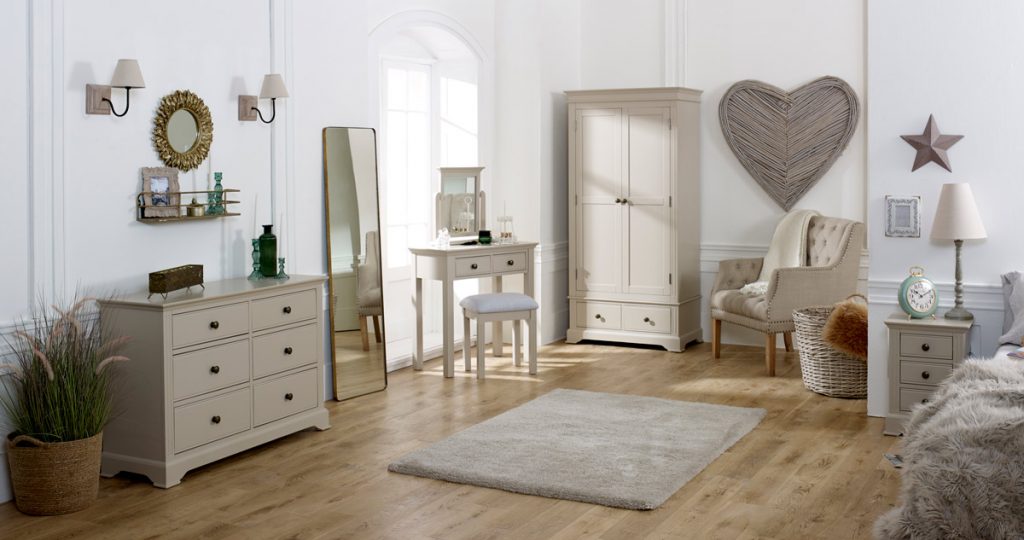 Grey Furniture
Furniture is a fantastic way of adding a little Grey to your interior. Our furniture collection boasts an amazing variety of Grey furniture items in a large array of styles, tones and finishes. We have picked a few examples of the different types of Greys in relation to our Furniture Ranges, so you can see what they look like.
Pale Grey Furniture
The Elise Grey Range is a beautiful, vintage inspired wooden furniture collection. This range has a pale grey, cool green toned painted finish, to accentuate the French feel. This collection comes complete with light distressing, ornate grooved detailing and glamorous crystal style handles. The perfect grey furniture range for lovers of vintage, shabby chic or French style homes.
The Newbury Grey Range has a classic, pale grey painted satin finish with a cool blue undertone. This collection has a classic, understated design with no detailing and simple round chrome handles. This versatile furniture collection could blend into an array of interior decor themes.
Dark Grey Furniture
The Lancaster Range is a traditional style collection of wooden furniture with carved, vintage inspired legs and black metal cupped handles. This collection has a dark slate grey painted smooth finish and could blend into a variety of home decor themes.
The Grayson Range is a simple yet stylish collection of dark grey painted wooden furniture, complete with a natural wooden top and copper cupboard handles. This collection has a deep dark grey finish, complete with navy blue undertones for a dramatic feel.
Warm Grey Furniture
The Davenport Taupe-Grey Range is a versatile collection of wooden furniture with a traditional design and warm toned, Taupe-Grey painted satin finish. This range includes simple grooved detailing and comes with your choice of round brass or silver handles.
The Devon Range is a Scandinavian inspired collection of furniture with a light coloured, warm Grey painted finish and a natural wooden top. This range is ideal for those who love warm tones with an earthy feel but wish to keep their interiors on the lighter side. This collection comes with rounded chrome handles on each piece.
Want to see all Grey Furniture collections? Click here: https://www.melodymaison.co.uk/furniture/furniture-ranges/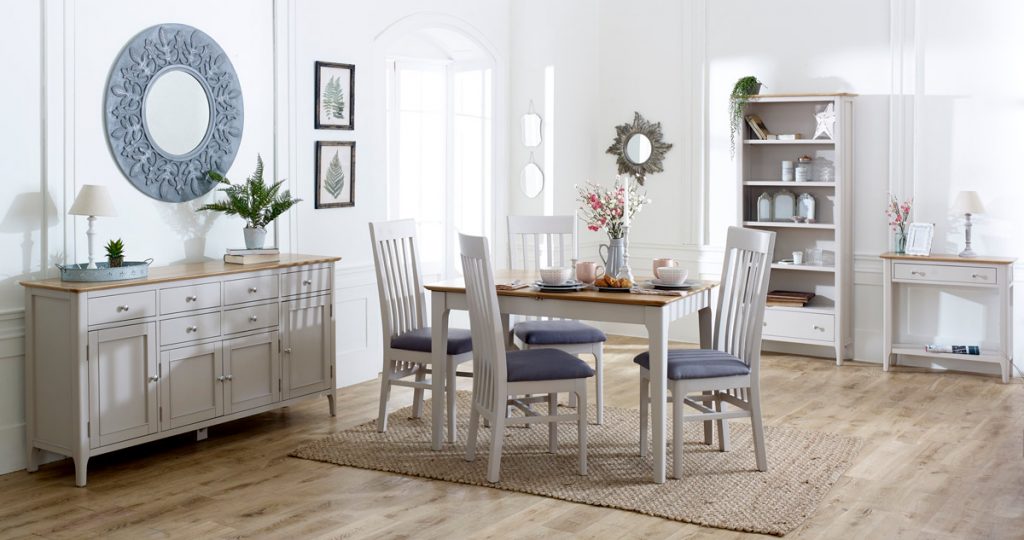 Grey Mirrors & Home Decor
To complete your new Grey toned interior, you can choose from a stunning collection of Grey Mirrors and Home Decor. We stock Grey home accessories in all styles and to suit all rooms.
Browse a sample of our selection below or click to shop.
Shop Now: https://www.melodymaison.co.uk/home-decor-and-accessories/
Bedroom Furniture Home Decor & Accessories Kitchen & Dining Living Room Mirrors See Everything