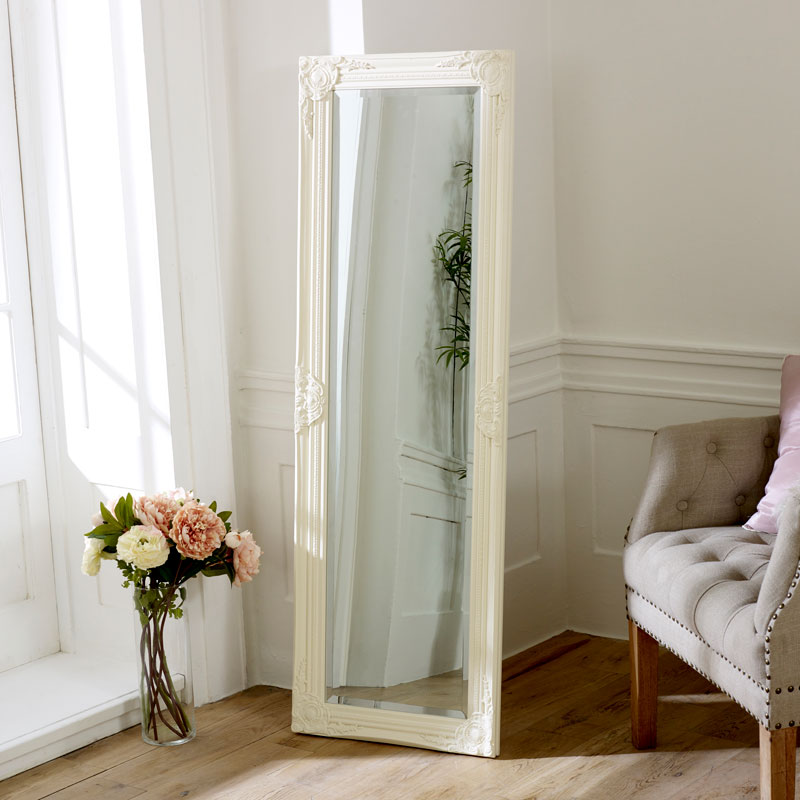 Cream Ornate Tall Mirror 47cm x 142cm A beautifully crafted ornate tall mirror finished in pale cream. This tall ornate mirror would be a perfect bedroom accessory or as a shop looking glass. A gorgeous ivory mirror with an overal size of 142cm x 47cm with the mirrored part measuring 33cm x 128cm. This long mirror can be hung vertical and horizontal and come with 3 metal hooks to the back for easy hanging, which ever way you chose to hang and weighs 7.5KG
Cream Ornate Tall Slim Mirror 47cm x 142cm
Product code: MM18066
In stock
Multi-buy discount
Quantity
Price:
2-4 Items
£

88.15

5-7 Items
£

86.35

8-10 Items
£

84.55

11-14 Items
£

82.75

15+ Items
£

80.96
Additional information
Measurements:
47cm x 142cm (width x height)
18.5inch x 55.9inch (width x height)
Measurements (other): Mirror measures 128cm x 33cm
Weight: 9.80KG
Delivery
Estimated Delivery: 1-3 working days
Delivery Available
Click & Collect - Collection available from our store - DN11 8BZ
Proof of card registered address and ID may be required

Click & Collect from Doncaster store

£0.00

Standard delivery - Delivery by courier between 9am and 5pm within 3 days of order. *exclusions apply

Standard Delivery - Mon 31st Jan - Wed 2nd Feb

£0.00




FREE on orders over £50

Weekday Of Choice - For delivery on a week day of your choice. Orders to be delivered the following working day, please order by 2pm. Your delivery will be between 9am and 5pm on the day of your choosing. Sorry, specific time slots are not available. *exclusions apply

Weekday of choice -

£7.95

Saturday Delivery - For delivery on a Saturday of your choice If ordering on a Friday before the weekend you want to receive your order please order by 2pm. Your delivery will be between 9am and 5pm on the day of your choosing. Sorry, specific time slots are not available. *exclusions apply

Saturday -

£7.95

Same day dispatch – Please order by 2pm to receive same day dispatch, this will ensure your order leaves our warehouse for delivery the next working day. This will be delivered with a courier, between 9am and 5pm. Time-slot deliveries are not guaranteed. *exclusions apply

Same day despatch - Mon 31st Jan

£7.95
Exclusions - Please note these delivery timescales are for UK mainland postcodes only, if you wish to have your order delivered to a non UK postcode, additional delivery time and charges may apply. You will be advised of the delivery charge before payment.
Read More on our postage & delivery page*exclusions apply
Available in 9 other colours
Available in 1 other sizes
Description
Cream Ornate Tall Mirror 47cm x 142cm
A beautifully crafted ornate tall mirror finished in pale cream. This tall ornate mirror would be a perfect bedroom accessory or as a shop looking glass.
A gorgeous ivory mirror with an overal size of 142cm x 47cm with the mirrored part measuring 33cm x 128cm. This long mirror can be hung vertical and horizontal and come with 3 metal hooks to the back for easy hanging, which ever way you chose to hang and weighs 7.5KG
It is made from wood and resin, features ornate carving to the mirror frame.
There are fixtures on the back for wall mounting or it can be leant
From our mirrors selection, this is a Tall Mirror, made from resin, finished with ivory satin paint and with classical styling, and then there is the ornate floral design around the whole frame.  The mirror can be free-standing or leant against a wall, and will be a good feature in any setting, but could also be useful for a retail outlet.  The overall size is 47cm x 142cm x 3.5 cm (height x width x depth) and the mirror itself is 33cm x 128cm.
This mirror can be mounted horizontally & vertically
Additional information
Colour: Cream
Finish: Satin
Material(s): resin
47cm x 142cm (width x height)
18.5inch x 55.9inch (width x height)
Measurements (other): Mirror measures 128cm x 33cm
Weight: 9.80KG