Guaranteed Pre-Christmas Delivery
To guarantee pre-Christmas delivery for all in-stock items, orders must be placed before the following cut off dates;
For small items, orders must be placed before 3pm on the 20th of December or 3pm on the 22nd of December with the Saturday Delivery option at checkout.
Medium items must be placed before 3pm on the 21st of December or 3pm on the 22nd of December with the Saturday Delivery option at checkout.
Large or Furniture must be placed before midnight on the 17th of December. Any orders placed after this date but before 3pm on the 21st of December please contact us as we may be able to guarantee pre-Christmas delivery or by using our express delivery option during checkout.
*** Please note non-mainland addresses such as Scotland all orders must be placed before midnight on the 17th of December for large or furniture items and 3pm on the 19th of December for small & medium items. Please contact us for any orders placed after this date as we may be able to guarantee pre-Christmas delivery.
*** Products that are in stock will specify if they are small/medium/large next to the guaranteed pre-Christmas delivery countdown.
International Guarantee pre-Christmas Delivery
Tuesday the 5th of December - (Africa, Central and South America, Asia, Australia, Caribbean, China (People's Republic), Far and Middle East, New Zealand
Wednesday the 6th of December - (Cyprus and Malta)
Thursday the 7th of December - (Austria, Belgium, Denmark, Eastern Europe (except Czech Republic and Poland), France, Germany, Greece, Iceland, Ireland, Luxembourg, Netherlands, Norway, Portugal, Slovakia, Spain, Switzerland, Turkey)
Friday the 8th of December - (Canada, Czech Republic, Finland, Italy, Poland, Sweden, USA)
Standard Delivery Information
How and when will you deliver my item?
Most items are delivered by an external courier, take 1-4 working days, and usually need a signature for delivery. You can request your parcel to be left with a neighbor or in a safe place at your own risk, just note this information on your order, or call us as soon as possible after making the order.
If nobody is home to receive the item, do not panic, they will try again the following day.
Furniture
Furniture and other larger items are delivered by our Melody Maison vans, by our very own helpful and smiley drivers. Delivery time is 3-12 days, and we will always be in contact well in advance to book in a date and time convenient for the delivery.
Day of Choice Furniture & Large Items
For a day of your choice delivery we send your items to you via our pallet delivery company.
This service is a kerbside only delivery service.
The drivers are not insured to bring your order inside for you.
It is your responsibility to remove the items from the pallet and take into your property and dispose of the pallet. All further information regarding your pallet delivery is emailed to you once your order has been placed.
Out of stock items
You will be advised after purchase and your item will be dispatched as soon as it becomes available. We rely on suppliers information on delivery dates of out of stock items and sometimes this information can change at short notice but we will endeavor to advise you if this happens as soon as possible to avoid disappointment.
Express Delivery
Express delivery is now available for only £4.95. There are conditions to Express delivery so please read our terms and conditions carefully.
Please read the full Express Delivery terms and conditions here.
What happens if the item I order is out of stock?
Most of our items are held in stock for immediate dispatch, if not, our website will tell you on the item information page what date the item will be in stock.
If an item is out of stock you can place a reservation online, the website will show the estimated restock date.
When ordering a back ordered a product, we take the full payment at the time of order. We will send you regular updates on the status of the item, and you will be notified when it is back in stock and when you can expect delivery. You can request a refund at any time.
On products over £100 we can take a deposit to reserve the item for you, rather than a full payment. You will need to call us for this as our system does not allow - please call us on 01302-741000.
Delivery Charges
Small Items
A single delivery charge of £4.95 (inc. VAT) is applied to your order, no matter how many items you order (exclusions apply, see map for details). These exclusions also apply to any shipping/postage promotions. Additional charges for the areas highlighted on the map are calculated at checkout, once your postcode has been entered.
We now have Express delivery available when you order before 3pm Monday to Friday for a charge of £4.95 (inc. VAT). Excluding non-mainland UK and Northern Ireland, we are also unable to offer this on all of our items. If your item does not qualify for £4.95 Express delivery this option will not be available on the item. Please see the T&Cs of Express delivery at the top of the page. If your item doesn't qualify for the £4.95 Express Delivery, due to the size of your item or your location, the price for delivery will be from £9.95 (incl. VAT) and the price will be calculated at checkout.
Large Furniture and Mirror
Furniture is sent via a furniture courier not a parcel firm. Our couriers are dedicated furniture couriers and are fully insured.
Please note if you have goods delivered to address other than your own, for onward transportation by another carrier, we cannot be responsible for damage caused on their onward journey.
There will be an extra charge to all furniture orders if the customer has accepted a given delivery slot and then fails to accept the delivery. This charge is passed onto the specialist furniture courier to re-arrange your delivery.
For all areas highlighted on the below map a further charge applies depending on the distance from ourselves, to calculate postage for your area, just select your items and proceed to checkout and your postage will be calculated before you make payment once your postcode has been entered.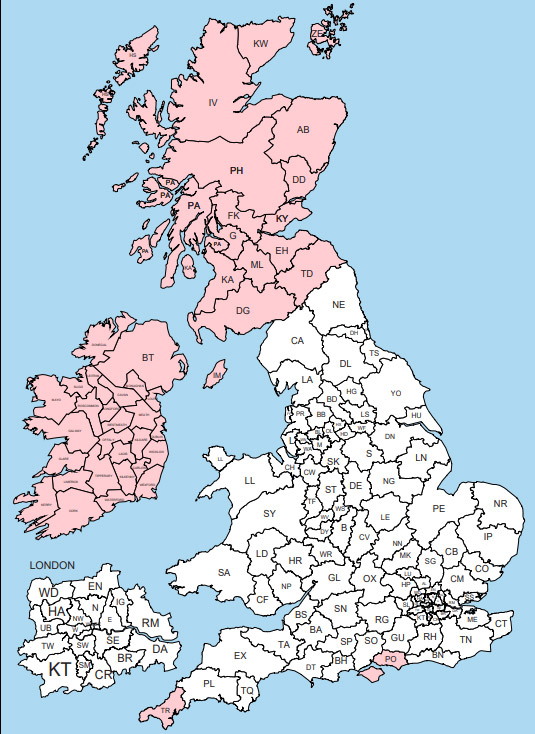 Italy, Spain, France, Germany, USA & Australia - Postage does not qualify for £4.95 delivery, but a price will be calculated after you have added you address details and before you make payment
For more information please visit Intenational Postage & Fees
Italy, Spain, France, Germany, USA & Australia - Postage does not qualify for £4.95 delivery, but a price will be calculated after you have added you address details and before you make payment
Other Countries not mentioned
We can offer postage to most countries, please contact us by email for details at customerservices@melodymaison.co.uk
Please always provide us with a contact telephone number as this delays deliveries being shipped by the courier as they need to contact you to arrange delivery, you must provide at least 1 phone number on your order before furniture deliveries can be released to the delivery company. Ideally please provide a delivery address landline number and a mobile number
The delivery service is a "green service", based on consolidating deliveries within the same area. Delivery will be a lot faster to highly populated areas, and the innermost parts of the country and may be slower to the more remote regions as mentioned above.
The buyer must be available to accept delivery at the pre arranged time. If you are not able to be in to take delivery, you can request the item be left with a neighbour or in a safe place of your choosing. If none of these options is suitable, delivery can be rescheduled when our driver next visits your area, so please allow longer in these cases.
Click & Collect from our Doncaster warehouse within 1 Hour
How it works
1) Place your order online through our main website or eBay/Amazon
2) Once you have placed your order on the main website you will then need to wait for us to call / email you with a timeslot and a date window of which you are able to come and collect your item. Please note: if you place your order on ebay/amazon you must let us know once you have paid for your item so we can arrange your slot for collection as eBay/amazon do not give the click and collect option.
3) When your day and time slot is due, you can come to our main Melody Maison Reception area (Unit 2, Lords Wood Road, Harworth, Doncaster, DN11 8BZ) for collection.
4) On collection you will need to press the buzzer on the showroom door (please note the showroom is closed) and a member of the team will come downstairs to greet you.
5) We will then ask for proof of photographic ID with the matching billing address from your order on so we can confirm who you are.
6) Click and collect is available Mon - Friday 10am - 4pm
After this your item will then be either;
A) brought out and placed outside the main doors for you
OR
B) if you need help with the item, our warehouse team will happily assist loading this into your car.
We do however ask you to keep a 2m distance from all of our staff members at all times.
Any issues with your item we do ask for these to be reported within 7 days via email (customerservices@melodymaison.co.uk)
Do however remember you can return your item within 200 days if it is an own choice decision and you have the item in the original packaging and in an unused condition.