Quirky Storage Solutions For Your Shabby Chic Home
Quirky Storage Solutions

for your Shabby Chic Home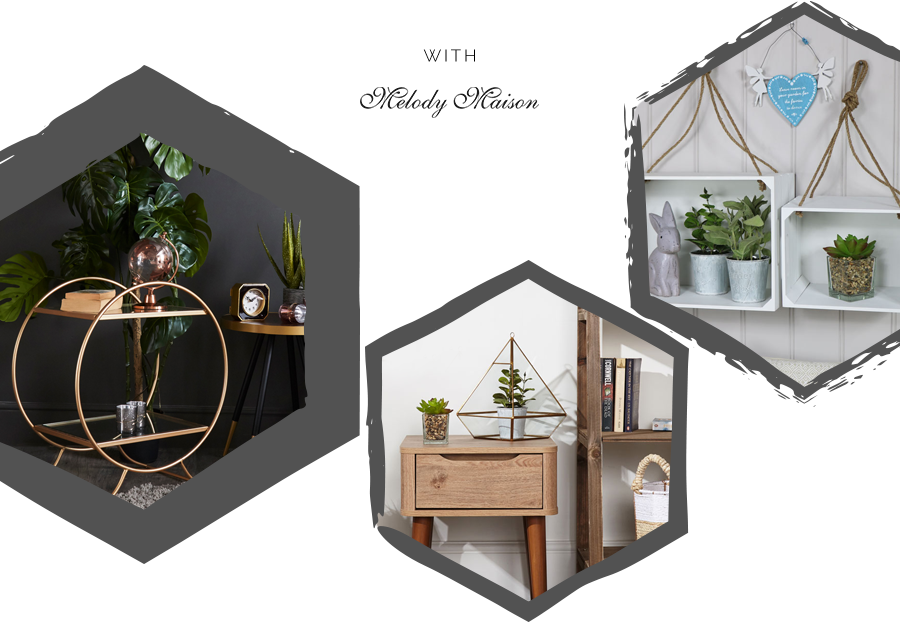 A place for everything and everything in its place:
so goes the saying.
And we couldn't agree more. Whether you're trying to organise specific items or you just want to pull a room together, there are shabby chic home décor and accessories that will suit you.
There's a storage solution for every area of the house and for every purpose at Melody Maison.


Shelves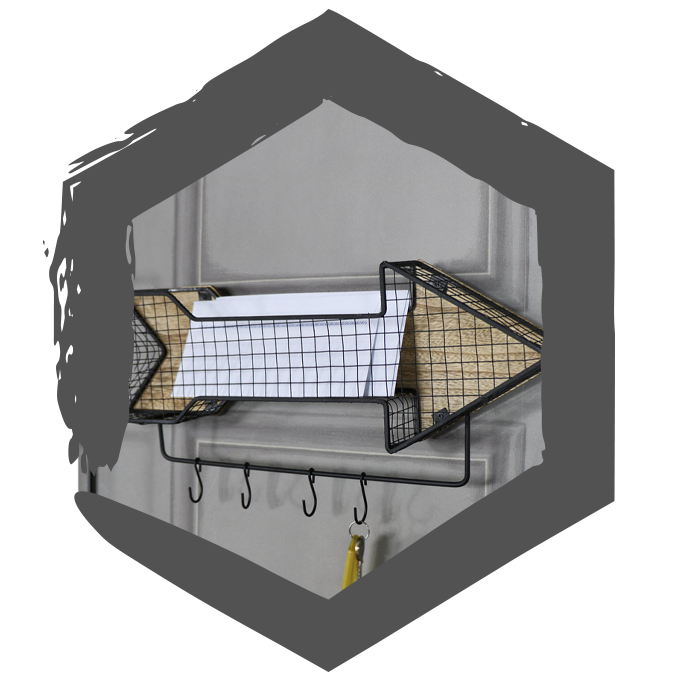 Shabby chic shelves can be fitted into any room of the house, from the bathroom to the kitchen to the bedroom. They're the perfect display and storage solution all wrapped into one. You can keep things tidy while also displaying items - think trinkets, photo frames, plants and books.


At Melody Maison, there is a range of different styles to suit your decor, from the modern/industrial rectangle black metal and wood shelving unit to the beautiful antique-style antique white ornate wall sconce style shelf and finally the quirky retro metal arrow wall shelf with hooks.

Coffee Tables
Let's not forget the humble coffee table. Extremely functional as family and friends gather round for coffee and cake or somewhere for you pop your glass of wine while you watch TV. Don't let their functionality fool you - they can make or break a room. Find one to fit your room perfectly and add the perfect shabby chic finishing touch.
Melody Maison have a wide range of coffee table styles that have drawers so you can hide away magazines, newspapers, remote controls and kids' toys.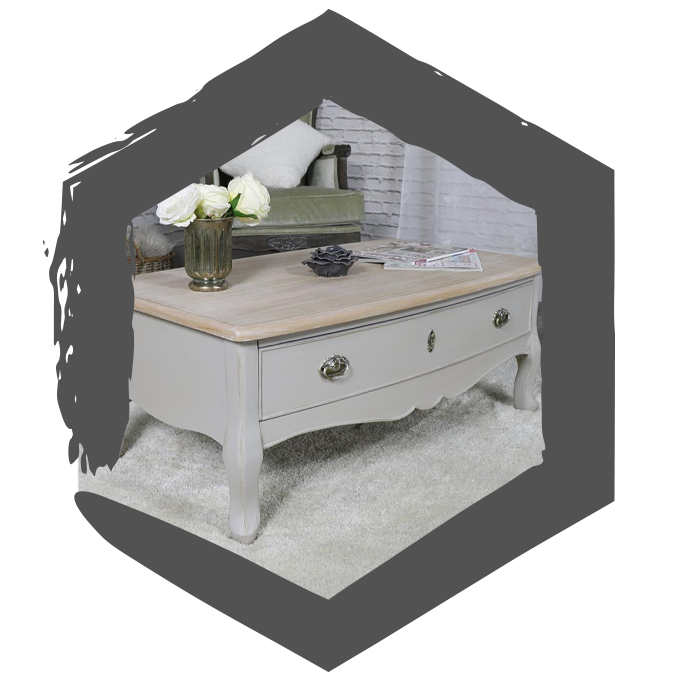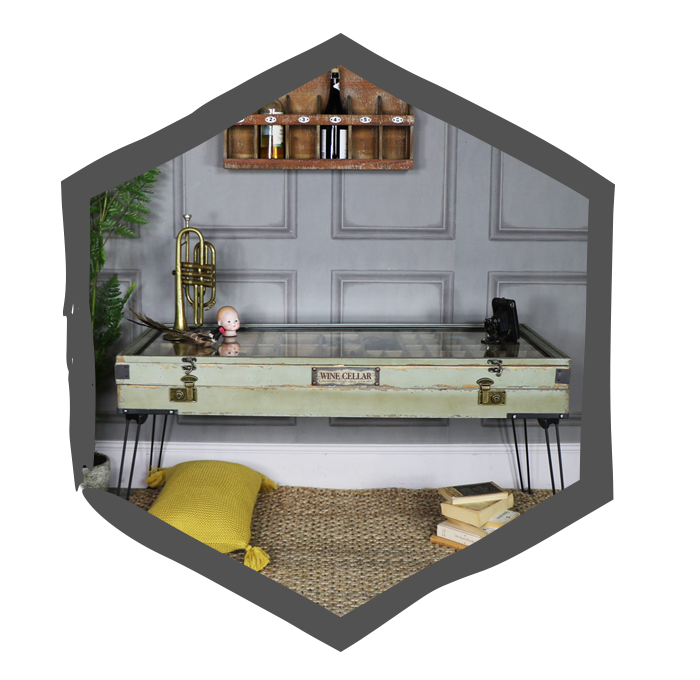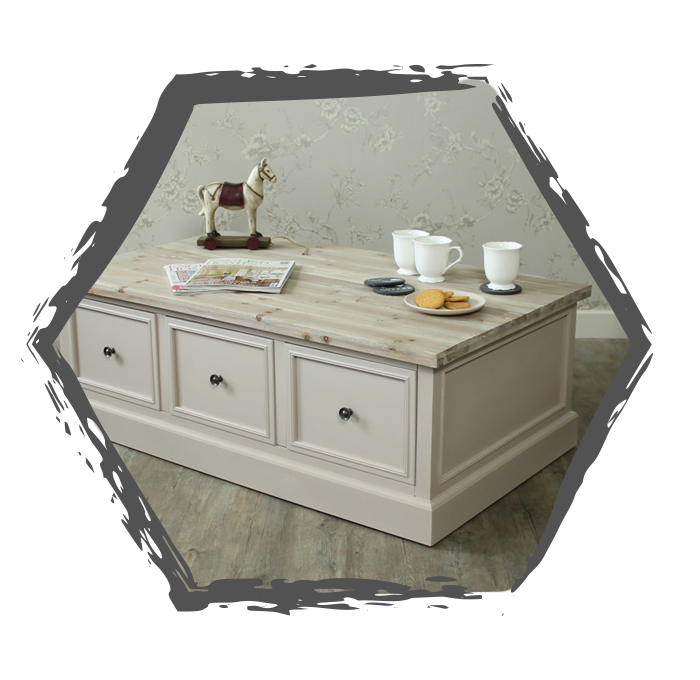 We love the vintage grey two drawer coffee table from the Albi range and the six drawer coffee table from the Cotswold range. Alternatively, if you are looking for a more industrial style coffee table, our large rustic coffee table with glass top storage is perfect!


Bedroom Tables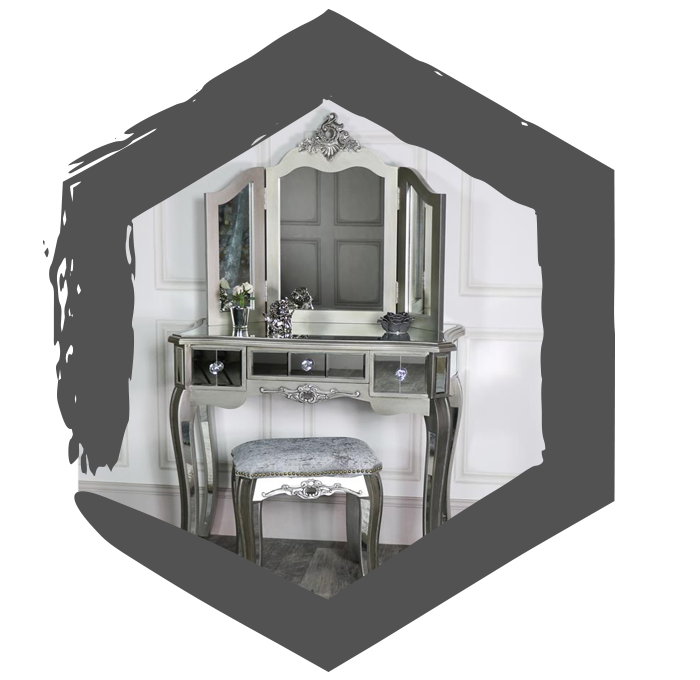 Dressing tables add a shabby chic and feminine touch to your room, making you feel glamorous while you get ready. For a super-glamorous aesthetic, you've got to see the ornate mirrored 3 drawer dressing table bedroom furniture set - it's got a very Parisian feel. For a simple but chic touch, the white dressing table set is ideal with its white colour and clean lines.‍
Don't scrimp on the bedside table either...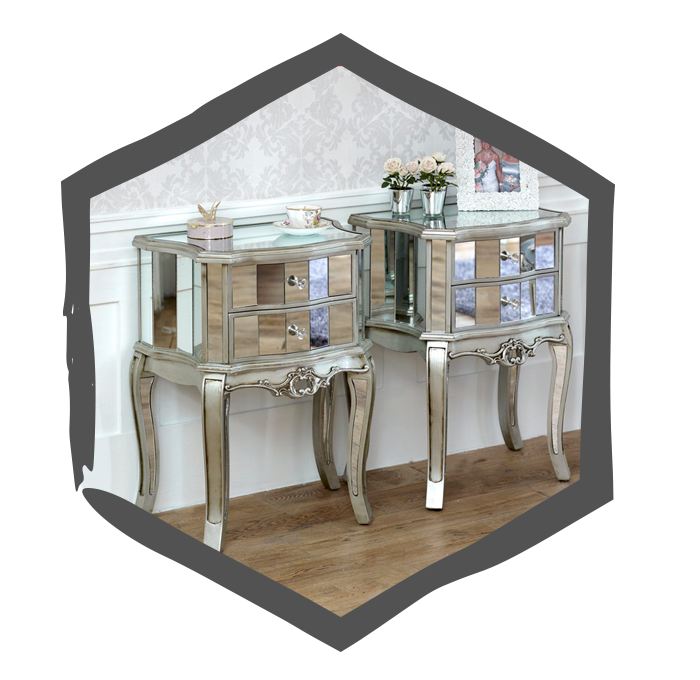 For a gorgeous shabby chic look, you need somewhere to store your hand cream and books before topping it off with beautiful flowers, a photo frame and a scented candle. Bliss! For that true shabby chic feel, pick one that mixes and matches with the rest of your bedroom furniture.

Console Tables
Console tables are a focal point in a hallway and they're a first impression for guests entering your home. They should be a blend of functional and stylish. Store away your keys, random pieces of paper, the dog's lead and use the top of it to pull together your home style. A big lamp, photo frames, flowers and pieces of art all make excellent show pieces.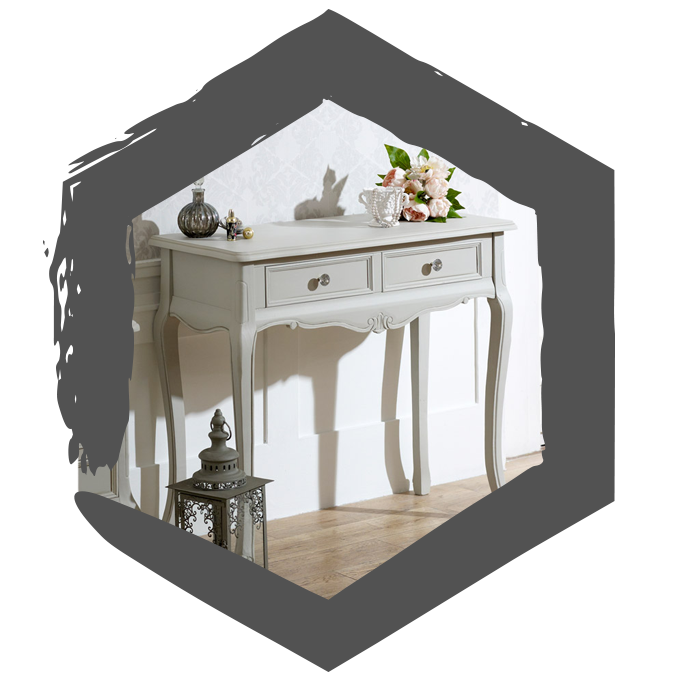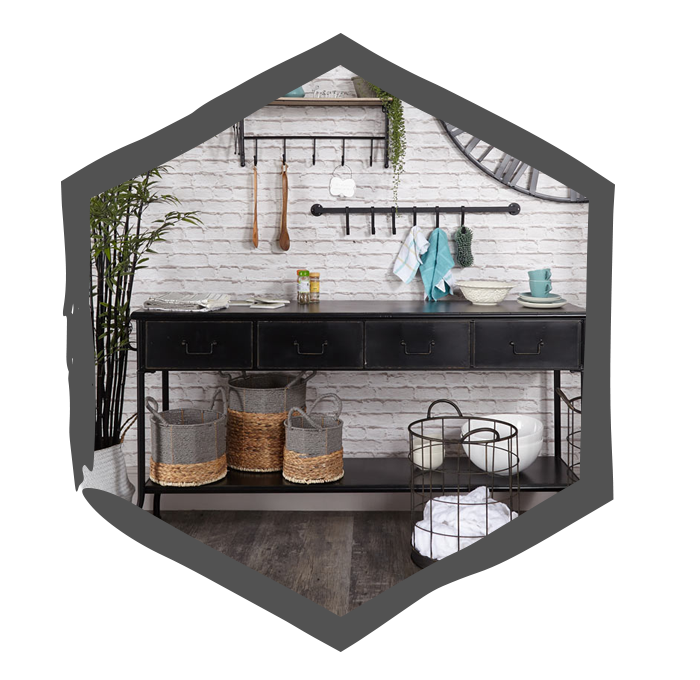 Console tables, like the 2 Drawer console table, are incredibly versatile and can be used as TV stands, an at-home bar or bedroom vanity. Think outside the box and make the piece work for what you need to store.


From coffee table to desk to shelving, there are so many ways to add shabby chic display and storage to your home with ease.

Added to basket
Added to Wish List
X
Close
By clicking "Allow All", you agree to the storing of cookies on your device to enhance site navigation, analyse site usage, and assist in our marketing efforts.
Find out more.
Update Your Cookie Settings
ALWAYS ON
Performance & Analytics
They allow us to recognise and count the number of visitors and to see how visitors move around our website when they are using it. This helps us to improve the way our website works, for example, by ensuring that users are finding what they are looking for easily. The data is aggregated and anonymised, which means we cannot identify you as an individual.
ALWAYS ON
Strictly Necessary
These are cookies that are required for the operation of our website.  For example, allowing a secure checkout, authenticating payments, and ensuring the website is loading correctly.
Social Media & Marketing Cookies
These cookies help inform us about what you're interested in, so we can show you relevant adverts on other websites. Disabling these cookies will mean ads you see may be less relevant to you. Some Social Media and Marketing Cookies access data from Performance and Analytics cookies and Essential cookies, but this only occurs if you accept Social Media and Marketing cookies.