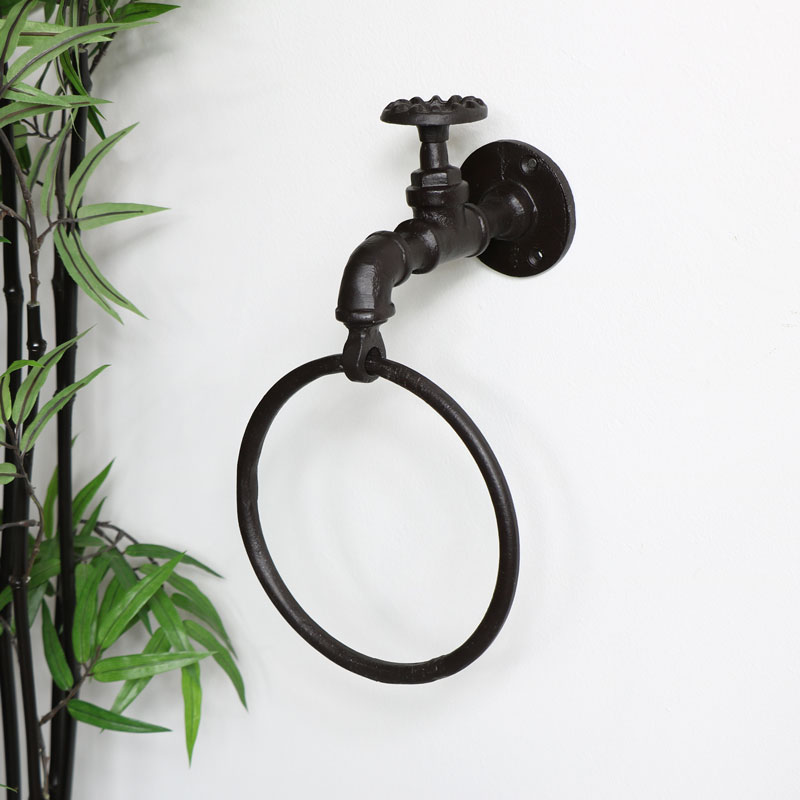 Wall mounted Rustic Industrial Tap Towel Holder Add a bit of character to your bathroom or shower room with this quirky, rustic industrial towel holder Made from metal, this is wall mountable with pre-drilled holes
Rustic Industrial Tap Towel Holder
Product code: MM21868
In stock
Multi-buy discount
Quantity
Price:
2-4 Items
£

11.71

5-7 Items
£

11.47

8-10 Items
£

11.23

11-14 Items
£

10.99

15+ Items
£

10.76
Additional information
Measurements:
8cm x 30cm x 15cm (width x height x depth)
3.1inch x 11.8inch x 5.9inch (width x height x depth)
Weight: 0.70KG
Delivery
Estimated Delivery: 1-3 working days
Delivery Available
Click & Collect - Collection available from our store - DN11 8BZ
Proof of card registered address and ID may be required

Click & Collect from Doncaster store

£0.00

Standard delivery - Delivered with royal mail between 9am and 5pm. *exclusions apply

Standard Delivery - Sat 29th Jan - Tue 1st Feb

£4.95




FREE on orders over £50

Weekday Of Choice - For delivery on a week day of your choice. Orders to be delivered the following working day, please order by 2pm. Your delivery will be between 9am and 5pm on the day of your choosing. Sorry, specific time slots are not available. *exclusions apply

Weekday of choice -

£7.95

Same day dispatch – Please order by 2pm to receive same day dispatch, this will ensure your order leaves our warehouse for delivery the next working day. This will be delivered with royal mail, between 9am and 5pm. *exclusions apply

Same day despatch - Sat 29th Jan

£7.95

Weekend Delivery, For delivery on a Saturday or Sunday of your choice If ordering on a Friday before the weekend you want to receive your order please order by 2pm. Your delivery will be between 9am and 5pm on the day of your choosing. Sorry, specific time slots are not available. *exclusions apply

Weekend -

£16.95
Exclusions - Please note these delivery timescales are for UK mainland postcodes only, if you wish to have your order delivered to a non UK postcode, additional delivery time and charges may apply. You will be advised of the delivery charge before payment.
Read More on our postage & delivery page*exclusions apply
Description
Wall mounted Rustic Industrial Tap Towel Holder
Add a bit of character to your bathroom or shower room with this quirky, rustic industrial towel holder
Made from metal, this is wall mountable with pre-drilled holes
In an antique brown with grey, aged distressing, giving your bath and shower room some real character.
A lovely retro rustic addition to your home, just part of our extensive industrial style home accessories.
From the homeware and giftware collections, this is a Towel Holder that is made from metal with an industrial feel supplied by the plumbing fitting and tap to its head, and a distressed effect to this and the towel hoop.  It is painted grey and is wall mountable with pre-drilled holes and its dimensions are 8 cm x 30 cm x 16 cm (width x height x depth).  Check out our similar coat rack for complementary items in your bathroom or shower room.
Additional information
Colour: Brown
Finish: Painted
Material(s): Metal
8cm x 30cm x 15cm (width x height x depth)
3.1inch x 11.8inch x 5.9inch (width x height x depth)
Weight: 0.70KG
Assembly Time: none