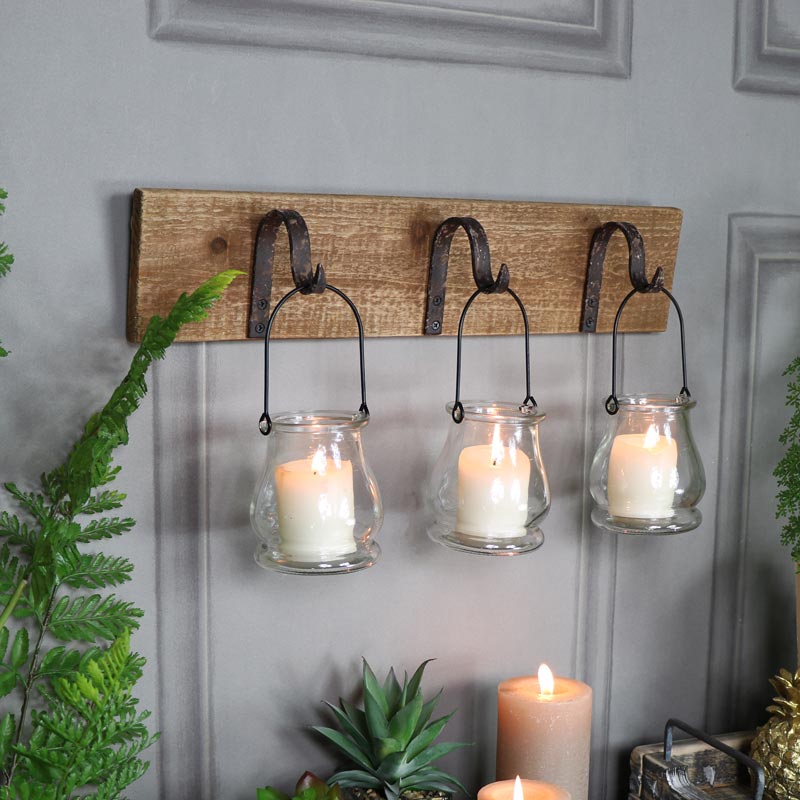 This Rustic Wall Mounted Hook Tealight Holder will add a touch of rustic charm to any wall space. Made of wood, metal and glass, this tealight holder has a wall mountable wooden panel and includes three metal hooks. Hanging from each hook is a glass tealight holder. The iron hooks are mounted on a solid wooden backboard with the glass jars easily hung from each hook. Each of the glass jars is curved to match the overall look and will hold a small pillar candle or tealight. Perfect for hanging in the hallway, living room, kitchen or garden. Pretty and practical and can be used for holding flowers and other little little knick-knacks to make a charming display
Rustic Wall Mounted Hook Tealight Holder
Product code: MM27624
In stock
Additional information
Measurements:
46cm x 10cm x 1.5cm (width x height x depth)
18.1inch x 3.9inch x 0.6inch (width x height x depth)
Measurements (other): Each glass jar measures: 8.5cm x 9.5cm x 8.5cm (width x height x depth) and hangs 18cm in height
Weight: 2.00KG
Delivery
Estimated Delivery: 1-3 working days
Delivery Available
Click & Collect - Collection available from our store - DN11 8BZ
Proof of card registered address and ID may be required

Click & Collect from Doncaster store

£0.00

Standard delivery - Delivered with royal mail between 9am and 5pm. *exclusions apply

Standard Delivery - Fri 29th Oct - Mon 1st Nov

£4.95




FREE on orders over £50

Weekday Of Choice - For delivery on a week day of your choice. Orders to be delivered the following working day, please order by 2pm. Your delivery will be between 9am and 5pm on the day of your choosing. Sorry, specific time slots are not available. *exclusions apply

Weekday of choice -

£7.95

Weekend Delivery, For delivery on a Saturday or Sunday of your choice If ordering on a Friday before the weekend you want to receive your order please order by 2pm. Your delivery will be between 9am and 5pm on the day of your choosing. Sorry, specific time slots are not available. *exclusions apply

Weekend -

£16.95
Exclusions - Please note these delivery timescales are for UK mainland postcodes only, if you wish to have your order delivered to a non UK postcode, additional delivery time and charges may apply. You will be advised of the delivery charge before payment.
Read More on our postage & delivery page*exclusions apply
Description
This Rustic Wall Mounted Hook Tealight Holder will add a touch of rustic charm to any wall space. Made of wood, metal and glass, this tealight holder has a wall mountable wooden panel and includes three metal hooks. Hanging from each hook is a glass tealight holder.
The iron hooks are mounted on a solid wooden backboard with the glass jars easily hung from each hook. Each of the glass jars is curved to match the overall look and will hold a small pillar candle or tealight.
Perfect for hanging in the hallway, living room, kitchen or garden. Pretty and practical and can be used for holding flowers and other little little knick-knacks to make a charming display
The wooden backboard is made from wood in a natural finish and is easily wall mounted with 2 D-ring hooks on the back. The glass jars each come with a handle that hangs from the hooks.
Part of our fabulous range of gifts and home accessories with even more lanterns, candelabras and tealight holders to choose from in pretty vintage styles to more rustic and retro charm.
Additional information
Colour: Natural
Finish: Rustic
Material(s): Wood / Iron / Glass
46cm x 10cm x 1.5cm (width x height x depth)
18.1inch x 3.9inch x 0.6inch (width x height x depth)
Measurements (other): Each glass jar measures: 8.5cm x 9.5cm x 8.5cm (width x height x depth) and hangs 18cm in height
Weight: 2.00KG